UK-Germany National Astronomy Meeting NAM2012
Social Programme
Tweetups
Tuesday March 27th & Thursday March 29th, 13:00-14:00
If you use Twitter, then come along to one of the #NAM2012 Tweetups. These will take place at lunchtime on Tuesday and Thursday in Jabez Clegg. For more information, please contact @dr_paul_woods.
Drinks Reception (free to all delegates)
Tuesday March 27th 18:30-20:30
The opening drinks reception will be held in the Manchester Museum, directly across Oxford Road from University Place. This is situated in an attractive historic building designed by Alfred Waterhouse, and will provide a novel and memorable venue for social interactions. Delegates will have access to all the galleries, including dinosaurs, geology, animals, ancient history and so on. We are very grateful to the City of Manchester for financial support for this event.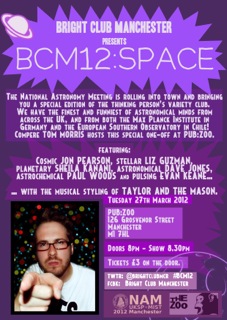 Bright Club
Tuesday 27th March, 20:00-22:45, £3 on the door
For the first time ever, this year's NAM comes with its own stand-up comedy night! We're holding a special Bright Club ("a 'thinking person's' comedy night") at a nearby pub, featuring compere Tom Morris (@FunnyTomMorris), astronomers Jon Pearson (Manchester, @jpoffline), Liz Guzman (Manchester, @LizGuzRam), Sheila Kanani (Mullard Space Science Laboratory, @saturnsheila), Dave Jones (ESO, @raindogjones), Paul Woods (UCL, @dr_paul_woods), Evan Keane (MPIfR, Bonn, @evanocathain), and music from Taylor and the Mason. For more information, please see the official event description page.
Trip to Jodrell Bank - now fully booked
Wednesday 28th March depart 16:00.
An optional evening trip to the Jodrell Bank Observatory will be offered on Wednesday 28th, including a tour of the facilities and visit to the new Discovery Centre. Transport is included, as well as as a hot and cold buffet supper featuring local produce.
If you wish to go on a waiting list in case places become available, please email nam2012@jb.man.ac.uk with the subject line "JBO waiting list".
Five-a-side football (optional - free to all delegates)
Wednesday 28th March (PowerLeague in Ardwick, 18:30-22:30)
The traditional 5-a-side football competition will also be held. This should be even more exciting than ever due to the international dimension.
Conference dinner - now fully booked
Thursday March 29th from 19:00
The conference dinner will be held at the iconic neo-Gothic venue of Manchester Town Hall (Alfred Waterhouse, 1877). We will dine within the Great Hall, featuring the famous Ford Madox Brown murals of the history of Manchester. A delicious three course meal with wine and coffee will be provided, with entertainment from a local jazz quintet.
If you wish to go on a waiting list in case places become available, please email nam2012@jb.man.ac.uk with the subject line "Conference dinner waiting list".