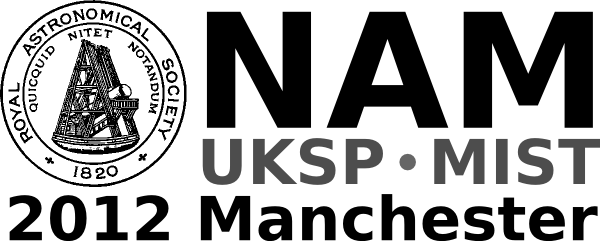 UK-Germany National Astronomy Meeting NAM2012
Schedule
The schedule for NAM 2012 is set out below. Plenary and community sessions will take place in Theatre B, with video streaming to Theatre A, unless otherwise noted. Also note that some parallel sessions start and end slightly earlier or later than the times given in the first column; this is noted where it is the case.
On-site registration is for pre-paid delegates only to collect their delegate packs.
Individual session timetables can be accessed by clicking on the session names below; clicking on a talk or poster title will display the abstract. Full listings of all presentations and all posters are also available. You can also download the abstracts as printer-friendly PDFs: posters, presentations.
Posters will be displayed in Session A (Tuesday/Wednesday) or Session B (Thursday/Friday) according to their session - see the delegate information page for details. Posters in OTH1 are split between both sessions.
Some break-out sessions will take place in the Lovell Seminar Room ('Lovell'), on the 3rd floor of the Alan Turing Building (the silver building beyond the marquee).
Monday 26 March
Tuesday 27 March
Wednesday 28 March
Thursday 29 March
Friday 30 March