VSA Receivers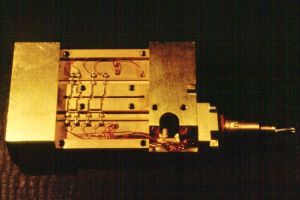 Ka band amplifier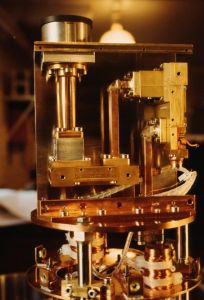 VSA cryostat
Any radio telescope requires a sensitive radio receiver. All receivers add random noise to the signals they pick up. This noise hides many weaker source of radio emission - just the sources radio astronomers want to look at. By observing the same sky position for longer some of the noise cancels itself out, because it is random. But if the receivers could be made less noisy instead, say by a factor of two, the necessary observing time would be shortened by a factor of four. So it is always worth being at the leading edge of radio receiver technology.
At Jodrell Bank we have a team of dedicated radio engineers who work to a goal of more and more sensitive receivers. Currently our best receivers are those we are building for the VSA. These are Ka band amplifiers, working best from 26.5 to 36.5 GHz. This is our modified version of a design by fellow radio astronomers in the US National Radio Astronomy Observatory.
In addition to using very good amplifiers we can make our receivers less noisy by cooling them to a fraction of normal ambient temperature. In the picture below, of a VSA cryostat all of the components at the centre, connected together by waveguide, are cooled to a physical temperature of around 15 K.