The 41st Young European Radio Astronomers Conference
University of Manchester/Jodrell Bank Observatory, 18-20 July 2011
Getting around
---
Upon arrival
---
On Sunday 17 July, there will be a welcome reception from 19:00-21:00 at the Barnes Wallis restaurant, located just a 1-2 minute walk from Lambert Hall. Each delegate will receive a complimentary glass of wine, and nibbles will be provided. Glasses of wine can be purchased from the bar for 2.60 GBP thereafter.
We will be scheduling pick-up times from Manchester Piccadilly Rail Station starting in the late afternoon, until just after the start of the welcome reception. Volunteers will meet those that wish to be directed from the station to Lambert Hall.
Please meet our volunteers at the main information booth, just under the departure boards, at the following times:
A map of Manchester Piccadilly Station can be found here.
---
Conference Events & Venues
---
On 18 and 20 July, the meeting will be held at the University of Manchester. On 19 July, we will have a special all-day program at the Jodrell Bank Observatory:
University of Manchester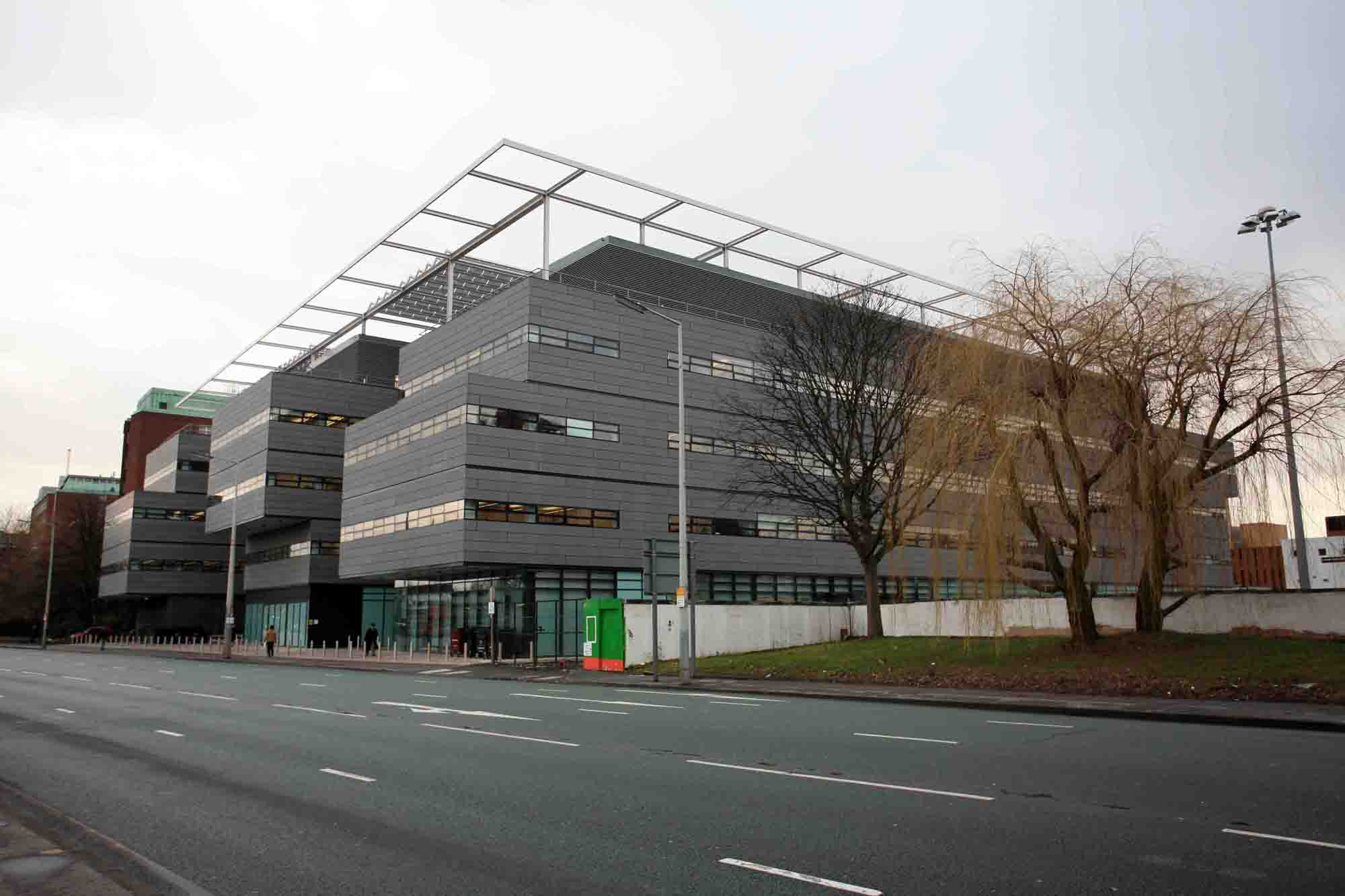 All science sessions, as well as lunches and coffee breaks, will be held in the Alan Turing Building (shown right) on the University of Manchester main campus.
For those who could not attend the opening night reception at the Barnes Wallis Restaurant, registration packages will be available in the main foyer of the Alan Turing Building from 09:00-11:00. These will also be made available during coffee breaks.
Talks will talk place in the Sir Bernard Lovell lecture room on the 3rd floor of the Alan Turing Building. Coffee and tea will also be served here at the designated times.
Lunches will be served in the open foyer on the ground level of the Alan Turing Building. There will be seats for participants to relax while eating.
Jodrell Bank Observatory
On Tuesday 19 July, we will have a special all-day program at the Jodrell Bank Observatory.
All conference participants will be collected at 08:30 sharp from Lambert Hall, and will be driven by coach to Jodrell Bank. Upon arrival, we will be treated to several presentations by professional astronomers, beginning with a history of the Jodrell Bank Observatory by Professor Ian Morison. In addition to the scheduled talks, there will be tour of the facilities at the Jodrell Bank site.
In the evening, there will be a catered barbecue, which will be held (weather permitting) outdoors, within a short distance from the foot of the 76-metre Lovell telescope.
At 20:30, all participants will be driven back to Lambert Hall.
---
Travelling into Manchester
---
Manchester Airport
Manchester International Airport is located approximately 10 miles (16km) south of the city centre. It is one of the busiest airports in the UK. Despite this, however, it is fairly simple to navigate:
A full list of airport maps available online can be found here
For those iPhone users, information about the (free!) Mancheter Airport app can be found here
The airport has a number of transport links to the city:
Train - The airport's three terminals are linked directly to the city centre by a fast, frequent 24 hour train link to Piccadilly station. We recommend that you travel from the airport to the city centre by train during regular hours. The trains are at frequent intervals, mostly taking 15 mins (quicker than a taxi at most times of day and much cheaper). A standard open return is currently 8.20 GBP (Though single off-peak time tickets can cost as low as 3.50 GBP each way). The trains usually run all night although at reduced intervals but you should check close to the time in case of engineering works. Lambert Hall and the Barnes Wallis Building (where we will have the welcoming reception) are 5-10 minutes walk from the station. The Alan Turing Building on the University of Manchester main campus is approximately a 15-20 minute walk from the station. Train times and status can be found on the National Rail and/or Mancheshter Piccadilly Station websites.
Taxi - A taxi from the airport to the City Centre will cost approximately 20-25 GBP.
Bus - Local buses also run to Sackville Street area of the city which is where Lambert Hall residence is located.
Manchester Piccadilly Rail Station
Manchester Piccadilly is the principal rail hub in Manchester. It is within walking distance to both Lambert Hall and the University of Manchester campus, as well as Manchester city centre. We recommend that participants arriving from the airport travel into Manchester city centre via train to Manchester Piccadilly.
For details of timetables, tickets and other rail information, please visit: National Rail Enquiries or the Mancheshter Piccadilly Station website. Train times can also be found in Deutsch, English, Francaise and Italiano here. Train times and advance tickets can also be purchased on-line at Virgin trains. A map of Piccadilly station can be found here.
We will have students from the Unversity of Manchester meeting those arriving at Manchester Piccadilly station to lead them to Lambert Hall and the welcome reception on Sunday 17 July. More details about this are found here.
Travel by Coach
National Express coaches serve over 1,200 destinations across the UK from the Chorlton Street Coach Station, which is near Piccadilly Rail station and a short walk from Lambert Hall.
Information about the National Express Manchester station can be found here.
Parking
For those travelling into Manchester by car, parking is available at the multi-storey Charles Street car park, located very near to Lambert Hall, at the corner of Sackville Street and Charles Street.
Current rates on the multi-storey car park on Charles Street are:
Up to 3 hours: 3 GBP
Up to 6 hours: 5 GBP
Up to 10 hours: 8 GBP
Up to 24 hours: 10 GBP
After 4pm and weekends: 2 GBP
Drivers using this car park should collect a ticket on entry and pay at one of the machines prior to collecting their vehicle at the end of the day. Those with SATNAV/route based systems can enter M1 3BB as the post code. This will direct you to Charles Street, which runs adjacent to Sackville Street.
For more information about parking in and around the University of Manchester, please visit the Car Park Services website.
Conference Map
Below is a map of the important locations relating to the YERAC meeting. Simply click on each of the icons to get imformation about each location. The blue line denotes the suggested walking route between Lambert Hall and the Alan Turing Building at the University of Manchester main campus.


View YERAC 2011 Map in a larger map


---
Things to do in Manchester
---
Lambert Hall is a few minutes walk south of Manchester city centre, where there is a wealth of shopping, pubs, and restaurants to suit all. The majority of the bigger-name stores are located in and around Market street, King street, St Anne's Square and the Arndale Centre. Many of the larger shops are open until 8pm six nights a week.
Tourist Information
You can learn about the different areas of town and attractions to see and explore through the following recommended websites:
And for those with iPhones, the following apps are also recommended:
---
Weather
In July the average daytime temperatures in Manchester is around 16-24 degrees Celsius falling to around 12-15 degrees Celsius at night. Like the rest of northwest England, Manchester has a generous yearly dose of clouds and drizzle, although the weather is rarely severe. So it is always worth bringing a coat and/or an umbrella!
---
Useful Maps