Twitter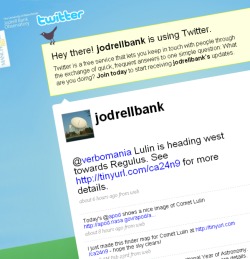 Want to find out what's happening at Jodrell Bank as it happens? Twitter is a free service that lets you keep in touch with others through the exchange of quick, frequent answers to one simple question: What are you doing? You can follow one of our feeds to receive updates:
Have you ever wondered what professional telescopes are looking at? As well as providing live updates on our website you can also get updates via Twitter. Each of our telescopes has its own profile which you can follow.
Note: this service was stopped on March 28th 2011 due to changes in the way Twitter allows updates.
You can also see a list of all our telescopes Twitter updates.