Images
Artist's impression of the Double Pulsar system showing the warping of spacetime (depicted as the blue grid) by the intense gravitational fields of the two neutron stars.
Credit: Michael Kramer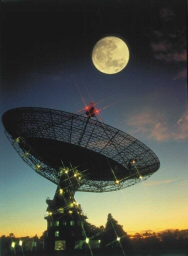 The 64-m Parkes radio telescope in New South Wales, Australia. The first pulsar of the pair was discovered at Parkes in April 2003. Its companion was found during Parkes observations carried out in October 2003.
Credit: John Sarkissian