JBCA Internal Symposium 2015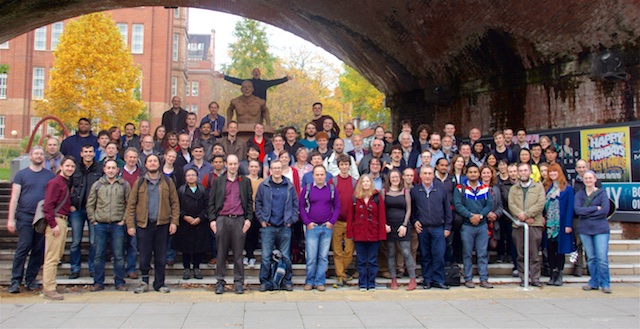 Symposium 2015 group photo (Credit: Mike Peel)
The 2015 JBCA Symposium will take place at the Barnes Wallis building in the northern campus on Tuesday 3rd November 2015.
The Symposium is a day-long event comprising a series of brief talks covering the wide range of research carried out at JBCA. It is a great opportunity to give a good introduction for recent arrivals, to update people within JBCA about your recent results, and to identify possibilities for collaboration. Recent symposia have included the 2014, 2013, 2012, 2010 and 2008 ones.
We will have a selection of 15-minute overview talks about JBCA, each JBCA group, outreach, and the Observatory. All staff members, postdocs and PhD students (2nd year and above) will have 1 minute each to present 1 slide. Talks will be in a random order - everyone should attend the whole of the event in order to avoid being embarrassed if you're not there when your name is called out!
This year's symposium is being organized by Megan Argo, Adam Avison, Stefano Camera, Mike Peel, Hayden Rampadarath.
Schedule:
Note that this schedule is not finalised yet!
Time
Speaker
Title
09.00
Coffee, tea and biscuits
09:25
Organisers
Description of the Day's events
09:30
Richard Battye
Welcome & Introduction
09:45
Michael Brown
Cosmology
10:00
Tim O'Brien
Public Engagement/JBO
10:15
Everyone
1 slide & 1 minute each
10.45
Tea, Coffee and biscuits
11:30
Simon Garrington
JBO/e-MERLIN
11:45
Mike Keith
Square Kilometre Array
12:00
Everyone
1 slide & 1 minute each
12.30
Lunch (buffet provided)
13:30
Anna Scaife
Interferometry Centre for Excellence
13:45
Clive Dickinson
Sun, Stars & Galaxies
14.00
Group photo
14:15
Ben Stappers
Pulsars and Time Domain Astrophysics
14:30
Everyone
1 slide & 1 minute each
15.00
Biscuits, coffee and tea
15:30
Everyone
1 slide & 1 minute each
17.00
End (we'll end earlier if we can!)