The Night Sky June 2014
Compiled by Ian Morison
This page, updated monthly, will let you know some of the things that you can look out for in the night sky. It lists the phases of the Moon, where you will see the naked-eye planets and describes some of the prominent constellations in the night sky during the month.
Image of the Month
Saturn image by the Cassini spacecraft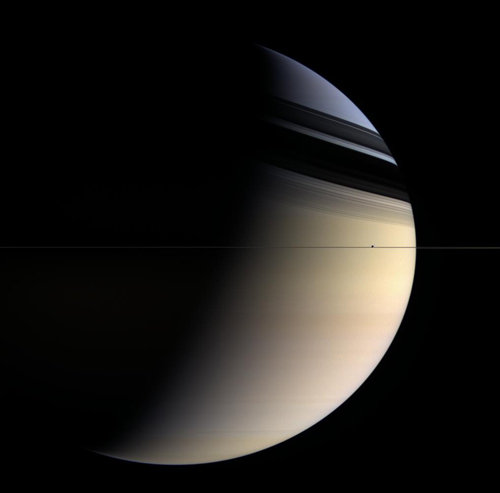 Saturn

Image: Cassini Imaging Team, SSI, JPL, ESA, NASA,
This wonderful image of Saturn was taken by the Cassini spacecraft when passing through the ring plane with the shadows of the rings falling on the northern hemisphere. Saturn's 500 km diameter moon, Enceladus, is seen just above the ring plane. It is thought that the blue colour seen near the northern hemisphere poles is due to molecules in the upper atmosphere scattering blue light more than red - in the same way that our skies look blue. When looking down deeper into the cloud system, the gold colour becomes more prominent, though why they appear this colour is not known.