The Night Sky April 2014
Compiled by Ian Morison
This page, updated monthly, will let you know some of the things that you can look out for in the night sky. It lists the phases of the Moon, where you will see the naked-eye planets and describes some of the prominent constellations in the night sky during the month.
Image of the Month
BICEP2 CMB results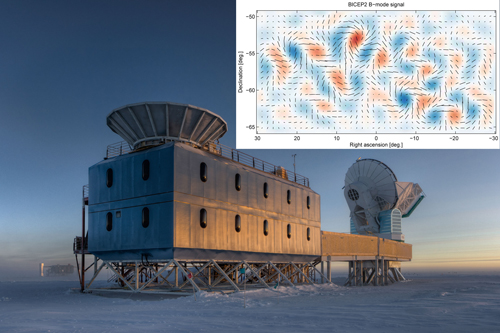 BICEP2 CMB Polarization Results .

Image: BICEP2 Collaboration, NSF, Stephan Richer (Harvard)
One prediction of the theories relating to the Big Bang origin of the Universe and the inflation that vastly increased its size, is that the tiny quantum fluctuations present prior to the inflationary phase would have become far greater in extent and would have launched gravitational waves travelling through space. As these waves distorted space as they passed through, they would have had the effect of slightly polarizing the light so giving rise to a "curling" pattern in the polarized orientation of light in the ancient Universe. If this is true, then this imprint should still be visible in the microwave radiation that makes up the cosmic microwave background (CMB).
As the amount of polarization was predicted to be very small its detection is exceedingly difficult but finally, in March 2014, the scientists using an experiment called BICEP2 located at the South Pole (where it is so cold that water vapour is frozen out of the atmosphere and microwave radiation can pass through un-attenuated) announced that they detected the predicted curling pattern of polarization in the CMB.
If this result is confirmed then it is proof of an inflationary phase in the early Universe, gives a further indirect detection of gravitational waves and, perhaps most importantly, that gravity had to be quantized. Could a Nobel Prize be in the offing?