Scientists bid to save the Earth in latest Hollywood blockbuster
14th April 2005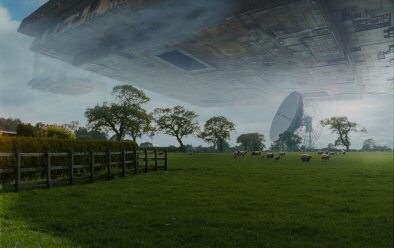 Scientists at the University of Manchester's Jodrell Bank Observatory will come face to face with Earth-destroying aliens in this summer's movie blockbuster 'The Hitchhiker's Guide to the Galaxy'.
Two key scenes of the sci-fi cult-classic were filmed at the Observatory in Cheshire, which also features in the book written by Douglas Adams.
But in a unique twist to the original plot in which scientists fail to detect the alien spacecraft as they are enjoying a 'nice relaxing cup of tea' this time down to them to stop the 'Vogons' from destroying the Earth.
The Observatory features in the opening sequence of the film in which the Vogons pronounce the destruction of planet Earth to make way for a 'Hyperspace Express Route'.
Jodrell Astronomer, Ian Morison, who is one of the extras in the scene, said: "Unlike the book in which we fail to detect the spaceship, this time it is down to us to make contact with the aliens and to persuade them not to destroy the planet."
"We are the last people to talk to the aliens, but as you'll see in the film, they take very little notice, and blow up the planet anyway - we might as well have been having a nice relaxing cup of tea after all."
More than ten scientists from the Observatory were chosen to feature as 'extras' in the film which stars Martin Freeman, Alan Rickman, John Malkovich and Stephen Fry.
During the two days of filming, Jodrell's Control Room, which overlooks the giant Lovell Telescope, was transformed into a retro-fifties set featuring dozens of kitsch flashing monitors and control knobs. But in true Hollywood style it was a piece of sticky tape stuck to the control room window which formed the most pivotal part of the set.
"We all had to focus on a cross made out of tape stuck on to the window which indicated where the alien spacecraft was in the sky. None of us had done any acting before but we hope we pulled it off," said Ian.
He added: "We are all now on tenterhooks to see the film, but none of us are talking to agents yet!"
For further information:
Simon Hunter, Media Relations Officer, telephone: 0161 2758387
Ian Morison, Jodrell Bank Observatory, telephone: 01477 572610
Notes to Editors:
Pictures available: Alien ship over Jodrell Bank Observatory. 3943 x 2480 pixels - 1024 x 644 pixels
Jodrell Bank Observatory is part of the University of Manchester's Faculty of Engineering and Physical Sciences based in the School of Physics and Astronomy.
The Hitchhiker's Guide to the Galaxy will be released on April 29, 2005.
Extract from Hitchhiker's Guide to the Galaxy (book): "Nestling quietly on top of the towel in Ford Prefect's satchel, the Sub-Etha Sens-O-Matic began to wink more quickly. Miles above the surface of the planet the huge yellow somethings began to fan out. At Jodrell Bank, someone decided it was time for a nice relaxing cup of tea."
Jodrell Bank website: http://www.manchester.ac.uk/jodrellbank/
Official Movie Website: http://hitchhikers.movies.go.com/