The Night Sky July 2016
Compiled by Ian Morison
This page, updated monthly, will let you know some of the things that you can look out for in the night sky. It lists the phases of the Moon, where you will see the naked-eye planets and describes some of the prominent constellations in the night sky during the month.
Cambridge University Press has recently published two books by the author.
An Amateurs Guide to Observing and Imaging the Heavens
is a handbook aimed to bridge the gap between the beginner's books on amateur astronomy and the books which cover a single topic in great detail. Stephen James O'Meara and Damian Peach have both given it excellent reviews.
'A Journey through the Universe'
covering our current understanding of the Universe (up to June last year) was published on the 25th of September. Martin Rees has written a very nice review of it.
Image of the Month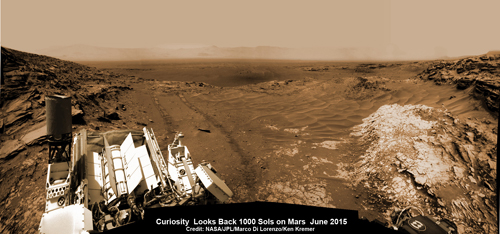 Curiosity Rover Martian Panorama

Image: NASA, JPL-Caltech, Marco Di Lorenzo and Ken Kramer

On March 31st, the Curosity Rover celebrated having spent 1000 sols (Martian days) on the salmon-pink planet (I do not think its red!) As pointed out in the planetary notes below, the line of sight to Mars now lies close to the Sun and radio communications between Earth and the Rover can be affected. To avoid problems, Curiosity will remain parked on the surface for some time. The panorama, showing the last part of its 10.6 km trek across the Martian surface, was taken on sol 997. The rim of Gale Crater is just seen through the haze in the distance.