The Night Sky February 2015
Compiled by Ian Morison
This page, updated monthly, will let you know some of the things that you can look out for in the night sky. It lists the phases of the Moon, where you will see the naked-eye planets and describes some of the prominent constellations in the night sky during the month.
Cambridge University Press has recently published two books by the author.
An Amateurs Guide to Observing and Imaging the Heavens
is a handbook aimed to bridge the gap between the beginner's books on amateur astronomy and the books which cover a single topic in great detail. Stephen James O'Meara and Damian Peach have both given it excellent reviews.
'A Journey through the Universe'
covering our current understanding of the Universe (up to June this year) was published on the 25th of September. Martin Rees has written a very nice review of it.
Image of the Month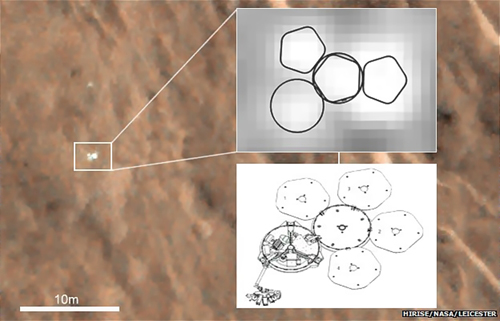 Beagle 2 on the surface of Mars

On Christmas day 2003 my colleages and I arrived at the University of Manchester's Jodrell Bank Observatory at around 5 am and targeted the Lovell Telescope on Mars. In the preceeding few weeks with help from Birmingham University, who had provided some high temperature superconducting filters to reject terresitrial interference, we had built the most sensitive receiver ever made that operated at the frequency that Beagle 2 would transmit from the surface of Mars. Normally a lander on Mars transmits a low power signal up to an orbiting spacecraft that relays the signals back to Earth. Beagle 2's mothership, Mars Express, would not be in a position for some days so Jodrell Bank had been asked to receive the very first signals directly from Beagle 2. The Lovell Telescope is the best in the world for this task as the two larger radio telescopes cannot work well at the frequency used by Beagle 2.
We searched for Beagle 2 then and many times in the next few weeks but, sadly, nothing was heard. We were pleased recently to see that Beagle 2 had landed on target. It had failed to extend all its solar panels but was so nearly a success. It is a little sad that Colin Pillinger who died last year could not know of its discovery.