The Night Sky December 2014
Compiled by Ian Morison
This page, updated monthly, will let you know some of the things that you can look out for in the night sky. It lists the phases of the Moon, where you will see the naked-eye planets and describes some of the prominent constellations in the night sky during the month.
Cambridge University Press has recently published two books by the author.
An Amateurs Guide to Observing and Imaging the Heavens
is a handbook to bridge the gap between the beginner's books on amateur astronomy and the books which cover a single topic in great detail. Stephen James O'Meara and Damian Peach have both given it excellent reviews.
'A Journey through the Universe'
covering our current understanding of the Universe (up to June this year) was published on the 25th of September. Martin Rees has written a very nice review of it.
Image of the Month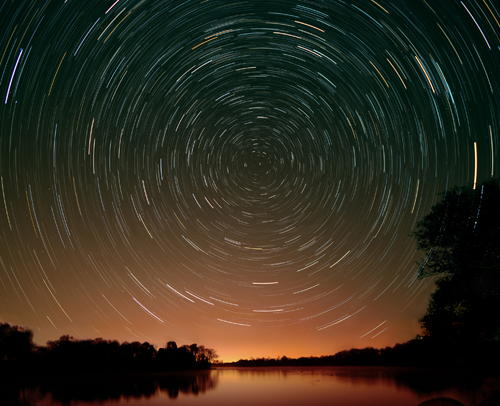 Star trails above Reedsmere in Cheshire

Image: Ian Morison
This pleasant, but not outstanding, image of star trails above Reedsmere in Cheshire is included to highlight a superb piece of free software. In the past, the taking of a star trails image was quite easy: for the classic shot, one simply pointed a film camera at the North Celestiall Pole and took a single long exposure. The problem with DSLR's is that due to 'dark current' produced in the sensor, long exposures become very noisy. The modern technique is thus to to take many short (~30 second) exposures which must then be combined to produce the star trails image. A program called
StarStaX
, written by Markus Enzweiler, can be downloaded by searching for 'StarStaX softpedia'. This program will accept and stack the set of images and even fill in any small gaps between exposures. Brilliant. It allowed this image to be made up from 100, 30 second exposures of the polar region as seen from a lake in Cheshire. (Nikon D7000 DSLR with 10 mm lens at ISO 800.) As the view overlooked Manchester to the north, the sky was very red due to light pollution and this was reduced in Photoshop simply by adjusting the 'red level' within the levels command. You can spot the dotted trails of aircraft above Manchester in the full sized image.