The Night Sky August 2018
Compiled by Ian Morison

See highlight above.

This page, updated monthly, will let you know some of the things that you can look out for in the night sky. It lists the phases of the Moon, where you will see the naked-eye planets and describes some of the prominent constellations in the night sky during the month.
New
The author's: Astronomy Digest
which, over time, will provide useful and, I hope, interesting articles for all amateur astronomers. A further aim is to update and add new material to link with the books recently published by Cambridge University Press and which are described on the home page of the digest. It now includes nearly 50 illustrated articles.
Image of the Month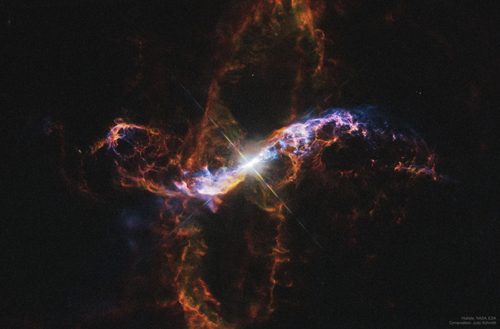 The R Aquarii interacting star system.
Image: ESA,Gaia,DPAC
The variable star R Aquarii is actually an interacting binary star system lying about 710 light years away. The system consists of a cool red giant star and a white dwarf star orbiting about their common centre of gravity. Material from the red giants surface is pulled onto the white dwarf by gravity eventually triggering a thermonuclear explosion blasting material into space. The still-expanding ring of debris originated from a blast seen in the early 1770s.