The Night Sky April 2015
Compiled by Ian Morison
This page, updated monthly, will let you know some of the things that you can look out for in the night sky. It lists the phases of the Moon, where you will see the naked-eye planets and describes some of the prominent constellations in the night sky during the month.
Cambridge University Press has recently published two books by the author.
An Amateurs Guide to Observing and Imaging the Heavens
is a handbook aimed to bridge the gap between the beginner's books on amateur astronomy and the books which cover a single topic in great detail. Stephen James O'Meara and Damian Peach have both given it excellent reviews.
'A Journey through the Universe'
covering our current understanding of the Universe (up to June last year) was published on the 25th of September. Martin Rees has written a very nice review of it.
Image of the Month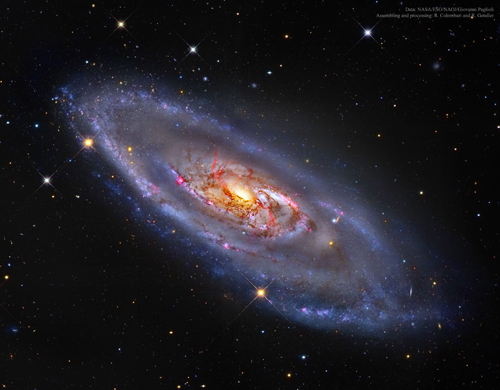 The Galaxy M106

Image:NASA,ESO,NOAJ,Giovanni Paglioli, processing by R. Colommmbari and R. Gendler
This picture of M106 is one of the most stunning astronomical images that I have ever seen. It is a composite of data from the Subaru Telescope combined with Hubble Space Telescope observations of the galaxy core. It has been assembled and processed Robert Gendler and colour has been added to the luminance (monochrome) image using a colour image taken by Giovanni Paglioli.
M106 lies in Canes Venatici below the handle of the Plough in Ursa Major. Its appearance is dominated by blue spiral arms and red dust lanes near the nucleus. It is the closest example of a Seyfert Galaxy having a very bright central core where it is thought vast amounts of glowing gas is falling inot a super-massive black at its heart. M106 spans some 60 thousand light years across and lies at a distance of 23.5 million light years. As its Messier designation implies it can be seen with a small telescope or even large binoculars given a dark sky location.