The Sun and Planets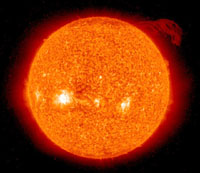 Magnetically confined plasma in a solar prominence, observed by STEREO (NASA).
The Sun offers an opportunity to study in great detail the complex processes which occur in the atmospheres of stars. At Manchester we are working on improving our understanding of the way in which the ionised gas (solar plasma) in the outer layers of the Sun interacts with the solar magnetic field, leading to incredible phenomena such as prominences, sunspots, flares and even the beautiful aurorae visible here on Earth.
Planetary research at Manchester focuses on the discovery of planets orbiting other stars - so-called extrasolar planets. Several techniques are used to find these planets:
Doppler wobble - looking for the orbital motion of the parent star as it is orbited by an unseen planet.
Transits - looking for the occasional passage of an orbiting planet in front of its parent star, causing a slight fading in the star's brightness.
Microlensing - the brightening of a background star caused by the movement of a star and planet directly between it and ourselves.
Here at Manchester we are involved in extra-solar oplanet detection using the microlensing and transit methods. We also have wider interests in testing planet formation theories.