Jodrell Bank Spectral Line Group
Welcome to the Jodrell Bank Spectral Line Group web page. We use radio lines to study the interstellar medium, circumstellar matter and the structure and dynamics of galaxies.
Jim Cohen 1948-2006. The order of service for Jim's memorial can be found here: Tribute to Jim and the obituary, published in the Telegraph, can be found here. We are storing as much material as possible relating to Jim's ongoing research collaborations, if you need more information you should contact Anita Richards (a.m.s.richards-at-manchester.ac.uk). Enquiries about other contacts such as with Jim's family should go to Tony Battilana (jab-at-jb.man.ac.uk).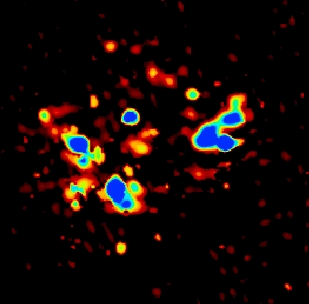 MERLIN map of 22GHz water maser emission from IK Tan (Gonzalez 1996).
Cosmic Masers

Cosmic masers are very bright radio sources of great astrophysical significance. They can help us to understand the physical and chemical processes in regions of massive star formation and in the vicinity of post-AGB stars. We study masers at a range of frequencies using MERLIN and VLBI.
Research Areas
Circumstellar Water Masers
Mass-Loss from Red Giants
Protostellar Disks
Maser astrometry
Active Galaxies
Megamasers
Magnetic fields in Maser regions
Star Formation in the Universe
Circumstellar SiO Masers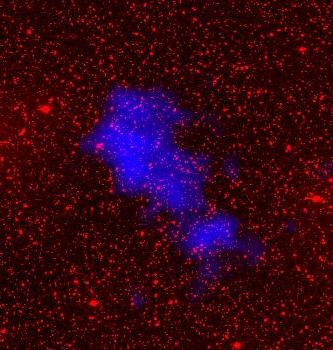 The HI Cloud HIPASS J1712-64 - a gas cloud of neutral hydrogen with no stellar emission.
Neutral Hydrogen

Neutral Hydrogen (HI) is found in most galaxies, and is the main building block for star formation. We study HI in both emission and absorption.
Research Areas
HI in Active Galaxies
HI Absorption
Multibeam HI Surveys
Low Surface Brightness Galaxies
High Velocity Clouds