The Double Pulsar
The Double Pulsar, PSR J0737-3039A/B, is the only binary pulsar system in which both neutron stars have been detected as radio pulsars. This is a rare situation as it requires the electromagnetic beam from both pulsars to intercept our line of sight at the same time. The Double Pulsar was discovered in late 2003 by an international team of astronomers with the 64-m Parkes radio telescope in Australia as part of a high-latitude multibeam survey of the Southern sky1,2.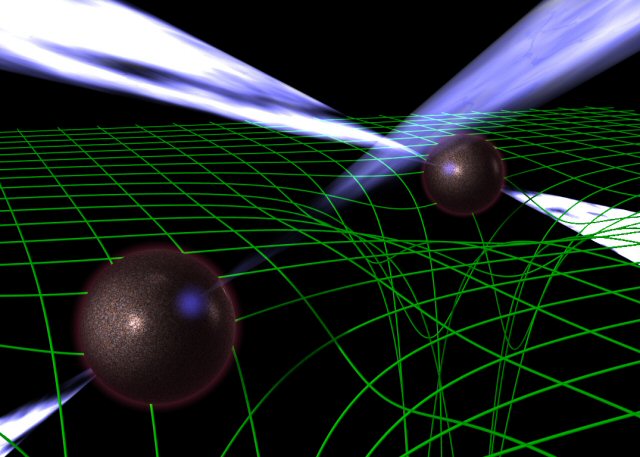 The Double Pulsar provides an amazing laboratory for the study of relativistic gravity and the most precise test to date of General Relativity in the strong-field regime3. The two pulsars orbit each other in a 2.4-hr orbit, the shortest of any observed double neutron star systems, with moderate orbital eccentricity of 0.088. The first-born pulsar, pulsar A, has a short spin period of 23 ms and the second-born companion, pulsar B, spins with a longer 2.8 s period. Due to almost edge-on orbital plane of the system, the eclipses of pulsar A by pulsar B have been detected. Also, the strong stellar wind produced by the high energy loss from pulsar A distorts the magnetosphere of its companion pulsar B4,5,14. Thus, the Double Pulsar offers a unique opportunity to probe directly the magnetospheric structures and the plasma properties of pulsars in general.
With strong gravitational fields and rapid motions of the two pulsars in a tight binary, the system is expected to show large relativistic effects. The required parameters to explain the Keplerian orbits of the system and their relativistic corrections have been measured through pulsar timing3. Due to relativistic spin precession, the spin axis of the pulsar precesses around the orbital angular momentum of the system. This results a modulation in observed radio emission properties, namely pulse profiles and flux densities. As a result, the radio emission from pulsar B disappeared in 2008 towards our line of sight6. Based on geometry models, the reappearance of B's radio emission is expected to happen between 2014 and 2024. We here at JBCA use the Lovell Telescope to monitor the system since its discovery.
By: Ben Perera
Images and videos related to the Double Pulsar and pulsars
Press Releases about the Double Pulsar
References
The references below, co-authored by Jodrell Bank astronomers, give further details on various aspects of the double-pulsar system.
Burgay, M., D'Amico, N., Possenti, A., Manchester, R. N., Lyne, A. G., Joshi, B. C., McLaughlin, M. A., Kramer, M., Sarkissian, J. M., Camilo, F., Kalogera, V. M., Kim, C., Lorimer, D. R., 2003, Nature, 426, 531 An increased estimate of the merger rate of double neutron stars from observations of a highly relativistic system