Introduction to Radio Astronomy
IMPORTANT UPDATE - 8th May 2009
This course is no longer offered through the University of Manchester. However we are currently exploring alternative ways in which it may be made available, perhaps in collaboration with other universities. More information will be posted here as it becomes available.
---
Introduction
Facts at a glance
Duration
12 weeks
Start dates
-
Cost
- (EU)
- (non-EU)
- (Weekend visit) - see note
Level
1
Credits
10
This part-time course delivered over the internet has been developed by professional astronomers at the Jodrell Bank Observatory and is aimed at those who would like the opportunity to use a radio telescope to make observations of astronomical objects and thereby be introduced to the basic concepts of radio astronomy.
The course lasts about 12 weeks and is centred around an opportunity to use our 6.4-metre and 13-metre radio telescopes to make observations of galaxies and pulsars. The observing experience can either be during a weekend visit (additional charge) or by remote control over the internet. You can follow the operations of the 6.4-metre telescope live on our dedicated webcam.
If you come for a weekend visit you can stay in a local hotel or farmhouse B&B. The weekend observing sessions take place from 10am-6pm on Saturday and 10am to 4pm on Sunday.
If you choose the internet option you will observe using a dedicated web interface to our 6.4-metre radio telescope. Observing is carried out live and data are available immediately for analysis on your home PC.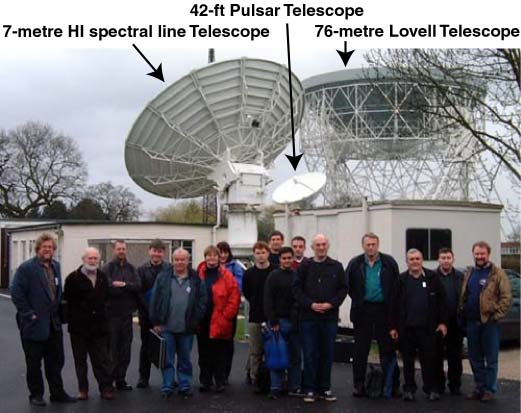 Students pictured in front of the telescopes they use during the weekend visit.
You can apply now online using this web-based form.
The course covers material on radio telescopes and the astronomical sources of radio emission using materials delivered online through our virtual learning environment prior to the observing sessions. Students become familiar with the use of our radio telescopes and go on to make observations of some pulsars and investigate the disc-like structure of our Milky Way galaxy and the nearby spiral galaxy M33 using a receiver tuned to the emission from hydrogen gas. If you are interested in more wide-ranging coverage of radio astronomy you should also consider our "Exploring the Radio Universe" course.
Entrance qualifications
You need have no prior knowledge of astronomy. This course develops many aspects of introductory astronomy in order to support the theme of radio astronomy.
This course is taught at the level of 1st year undergraduate degrees in general science whose base entrance requirement would be A' levels or equivalent. However the course is in part designed to widen access to higher education and encourage lifelong learning hence we will accept a minimum level of GCSE Mathematics and Science or their equivalent. Applicants with these qualifications must show a passion for the subject e.g. via a compelling personal statement on application, perhaps demonstrated by membership of a local astronomical society, ownership of a telescope or supporting references.
You must be proficient in the use of the English language, which is the medium of instruction and examination in the University. The minimum acceptable level of proficiency is: GCSE English Language (grade C or above); Cambridge Certificate of Proficiency in English (grade C or above); or an International English Language Testing (IELTS) average score of 6.0. If you have another English language qualification or are proficient but not certified you should contact the Course Director for advice (see address below).
To study at The University of Manchester, you must normally be at least 17 before the degree programme begins and not currently in secondary education. We expect most applicants for this course will be mature students over 21 years of age. Those who have not been involved in academic study for a number of years are welcomed. All students will be assigned a tutor with whom they should make regular contact.
As the course makes extensive use of a personal computer and online materials you will require access to a PC and the internet with a broadband connection.
The Course Director, or their representative, is happy to discuss any issues relating to your application.
Assessment
Students will be assessed by a written assignment testing their knowledge of the notes provided over the internet via a virtual learning environment prior to the observing sessions (40%); by what they learn during the observing sessions (20%); and by a report on their observations (40%).
A Certificate of Credit for 10 Level 1 credits will be awarded for a final mark of 40% or greater.
The University of Manchester credit system follows the UK national standard in which 120 Level 1 credits correspond to the first year of full-time undergraduate study.
These credits can therefore be transferred to other suitable programmes of study - for example the Certificate in Introductory Astronomy offered by the University of Manchester in partnership with the Open University.
Course credits may also be accepted on the Certificate of Higher Education in Astronomy by Distance Learning offered through the astronomy.ac.uk consortium of universities - if you are intending to do this you must first check with the director of the target programme that this course is suitable for accreditation.
Some useful supplementary reading
For students intending to pursue the course and others who are interested in the subject, here is a short list of resources available on the web which include some educational material on radio astronomy. Students following our course read material from these sites to complement our own course materials.
Feedback
Here are some unsolicited comments from a few of the students that have studied this course.
"I enjoyed the course immensely. The course handouts were extremely well written and a pleasure to read."
"Just to say thanks to you and the postgrad assistants for such a terrific weekend at Jodrell Bank. It was a real privilege to learn so much stuff in such a short time, even though my head was spinning by Sunday afternoon! I was apprehensive that my limited knowledge would prevent me from participating fully but everyone was so patient and the guys made it all so accessible that I couldn't help but enjoy it!"
"Thank you for organising such a brilliant weekend study course! It made my head ache with all we had to take in but it was well planned and worked well."
"I shall certainly recommend the course to anyone interested since, to the best of my knowledge, it is unique in the U.K."
"I really enjoyed it and loved the weekend. Thanks for an interesting and enjoyable course."
How to contact us
E-mail: Jodrell.Courses@manchester.ac.uk
Jodrell Bank Observatory
School of Physics and Astronomy
The University of Manchester
Macclesfield
Cheshire SK11 9DL
United Kingdom