Exploring the Radio Universe
Note that this course will be offered only once more by the University of Manchester, during academic year 2009/10.
Application deadline for Exploring the Radio Universe is 8th January 2010.
---
Introduction
Facts at a glance
Duration
24 weeks
Start date
2010 Feb 8th
End date
2010 wc July 26th
Cost (2009/10)
£258 (EU)

£367 (non-EU)
Level
1
Credits
20
This part-time course delivered over the internet has been developed by professional astronomers at the Jodrell Bank Observatory and gives a comprehensive introduction to the universe seen through the radio window. It includes a description of astronomical sources of radio emission and the techniques used to investigate them. The course will also provide opportunity for remote use of a radio telescope at Jodrell Bank.
You can apply now online using this web-based form.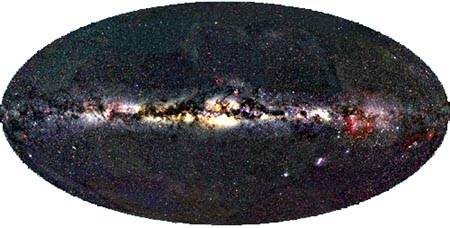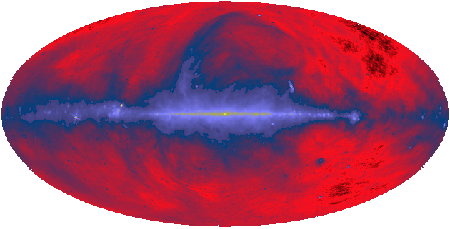 The images at left compare the radio and visible sky. The first image above is a spectacular panorama, constructed by Axel Mellinger from 51 wide-angle photographs, showing how the whole sky appears at visual wavelengths. The view is dominated by light from stars which are confined mainly to a horizontal band marking the plane of our own Milky Way galaxy. The Milky Way is crossed by dark bands due to obscuration by foreground clouds of dust.
For comparison the second image is a view of the whole sky at a radio frequency of 408 MHz (a wavelength of about 74 centimetres) made using the Lovell Telescope at Jodrell Bank and telescopes at Bonn (Germany) and Parkes (Australia). Here the light does not come from stars but is emitted by electrons spiralling around magnetic field lines at speeds approaching that of light. Dust obscuration is not a problem at these wavelengths and we can, for example, see right into the heart of our galaxy at the centre of this image.
Course content
The course lasts about 24 weeks and includes an opportunity to use a radio telescope remotely and to analyse data from professional radio telescopes. Course materials are delivered online through our virtual learning environment.
Students who have completed this course will have:
an awareness of the wide range of astrophysical phenomena which can be studied using radio telescopes;
understanding of the way in which radio waves are generated and the manner in which they can be affected on their way from source to observer;
an appreciation of the operation of radio astronomy receivers and the sensitivity of radio observations;
knowledge of the way in which arrays of telescopes can be used to make images of the radio sky;
experience of using radio telescopes and interpreting radio astronomical data;
developed transferable skills including the ability to evaluate information, to solve problems, to complete a task by a deadline, to use computers (in particular the world-wide web) with confidence, to work productively with other people, to communicate effectively and to learn independently.
The syllabus comprises:
Introduction
Overview of course: aims & objectives, how it works, learning at a distance, remote operation of telescopes, contacting tutors.
The Radio Universe
The radio sky: the Sun, planets, stars, the Milky Way, star-forming regions, supernova remnants, interacting binaries, other galaxies, active galaxies & quasars, cosmic microwave background. The way in which different astronomical objects give rise to radio emission. The ways in which radio waves can be modified between source and observer, for example by their passage through the interstellar medium.
Radio telescopes: antennas & arrays
How to collect radio waves. The simple dipole and its use in simple arrays. The design & operation of parabolic dishes and their feed systems. The antenna as an aperture. The use of two antennae to form an interferometer. The use of many antennae to synthesise large apertures. Techniques for linking radio telescopes over large distances.
Radio astronomy receivers
How to detect radio waves. Noise and the contributions to the system noise temperature. Use of cryogenic amplifiers to increase sensitivity. Minimum detectable radio signals. Elements of radio astronomy receiver systems: local oscillators, mixers, filters, isolators, detectors. Some example systems.
Observation and analysis
Development of an observing programme; remote use of telescope; analysis and interpretation of data both from the students own observations and also from supplied data. Radio astronomy data reduction techniques, for example: Fourier transform spectroscopy, pulsar dedispersion and synchronous integration, imaging techniques including CLEAN.
Although the above syllabus is split into separate sections on astronomy, technology and techniques, in practise the course will describe an astronomical source of radio emission alongside the techniques used in its observation.
Entrance qualifications
You need have no prior knowledge of astronomy. This course develops many aspects of introductory astronomy in order to support the theme of radio astronomy.
This course is taught at the level of 1st year undergraduate degrees in general science whose base entrance requirement would be A' levels or equivalent. However the course is in part designed to widen access to higher education and encourage lifelong learning hence we will accept a minimum level of GCSE Mathematics and Science or their equivalent. Applicants with these qualifications must show a passion for the subject e.g. via a compelling personal statement on application, perhaps demonstrated by membership of a local astronomical society, ownership of a telescope or supporting references.
You must be proficient in the use of the English language, which is the medium of instruction and examination in the University. The minimum acceptable level of proficiency is: GCSE English Language (grade C or above); Cambridge Certificate of Proficiency in English (grade C or above); or an International English Language Testing (IELTS) average score of 6.0. If you have another English language qualification or are proficient but not certified you should contact the Course Director for advice (see address below).
To study at The University of Manchester, you must normally be at least 17 before the degree programme begins and not currently in secondary education. We expect most applicants for this course will be mature students over 21 years of age. Those who have not been involved in academic study for a number of years are welcomed. All students will be assigned a tutor with whom they should make regular contact.
As the course makes extensive use of a personal computer and online materials you will require access to a PC and the internet with a broadband connection.
The Course Director, or their representative, is happy to discuss any issues relating to your application.
Assessment
Students will be assessed by two pieces of written work (50%); by a report on their observations and data analysis(25%); and by a final test to be conducted over the internet (25%). Assessment is delivered and returned via our online learning environment.
A Certificate of Credit for 20 Level 1 credits will be awarded for a final mark of 40% or greater.
The University of Manchester credit system follows the UK national standard in which 120 Level 1 credits correspond to the first year of full-time undergraduate study.
These credits can therefore be transferred to other suitable programmes of study - for example the Certificate in Introductory Astronomy offered by the University of Manchester in partnership with the Open University.
Course credits may also be accepted on the Certificate of Higher Education in Astronomy by Distance Learning offered through the astronomy.ac.uk consortium of universities - if you are intending to do this you must first check with the director of the target programme that this course is suitable for accreditation.
Some useful supplementary reading
For students intending to pursue the course and others who are interested in the subject, here is a short list of resources available on the web which include some educational material on radio astronomy. Students following our course read material from these sites to complement our own course materials.
How to contact us
E-mail: Jodrell.Courses@manchester.ac.uk
Jodrell Bank Observatory
School of Physics and Astronomy
The University of Manchester
Macclesfield
Cheshire SK11 9DL
United Kingdom