The Night Sky March 2018
Compiled by Ian Morison

See highlight above.

This page, updated monthly, will let you know some of the things that you can look out for in the night sky. It lists the phases of the Moon, where you will see the naked-eye planets and describes some of the prominent constellations in the night sky during the month.
New
The author's: Astronomy Digest
which, over time, will provide useful and, I hope, interesting articles for all amateur astronomers. A further aim is to update and add new material to link with the books recently published by Cambridge University Press and which are described on the home page of the digest. It now includes over 40 illustrated articles.
Image of the Month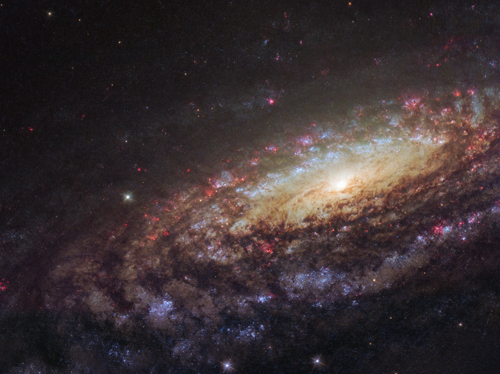 The galaxy NGC 7331
Image HST- NASA/ESA.D.Milisavljevic (Purdue University)
This is a Hubble Telescope image of the spiral galaxy NGC 7331 which lies some 50 million light years away in the constellation Pegasus. Though bright, it was not included in the Messier Catalogue. The spiral arms show both giant clusters of massive blue stars as well as many active star formation regions highlighted by the reddish glow of Hydrogen Alpha emission. The bright central region, which harbours a supermassive black hole, glows in the yellowish light of older, cooler stars .