The Night Sky February 2018
Compiled by Ian Morison

See highlight above.

This page, updated monthly, will let you know some of the things that you can look out for in the night sky. It lists the phases of the Moon, where you will see the naked-eye planets and describes some of the prominent constellations in the night sky during the month.
New
The author's: Astronomy Digest
which, over time, will provide useful and, I hope, interesting articles for all amateur astronomers. A further aim is to update and add new material to link with the books recently published by Cambridge University Press and which are described on the home page of the digest. It now includes nearly 40 illustrated articles.
Image of the Month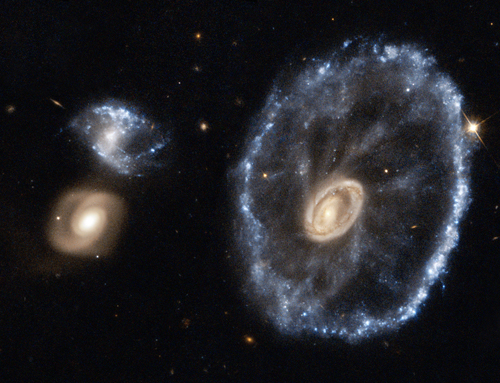 The Cartwheel Galaxy
Image HST- NASA/ESA
This is a Hubble Telescope image of the Cartwheel Galaxy which lies some 500 million light years away in the constellation Sculptor. The galaxy's rim is 150,000 light years across and is composed of newly formed massive stars (which are blue in colour). It is thought that the galaxy was initially a spiral and that the ring-like shape is the result of the gravitational disruption caused by the passage of a small intruder galaxy. This has been identified and now lies about 250,000 light years away.