The Night Sky September 2015
Compiled by Ian Morison
This page, updated monthly, will let you know some of the things that you can look out for in the night sky. It lists the phases of the Moon, where you will see the naked-eye planets and describes some of the prominent constellations in the night sky during the month.
Cambridge University Press has recently published two books by the author.
An Amateurs Guide to Observing and Imaging the Heavens
is a handbook aimed to bridge the gap between the beginner's books on amateur astronomy and the books which cover a single topic in great detail. Stephen James O'Meara and Damian Peach have both given it excellent reviews.
'A Journey through the Universe'
covers our current understanding of the Universe. Martin Rees has written a very nice review of it.
Image of the Month
A panorama and selfie taken by the Curiosity Rover to mark three years on the surface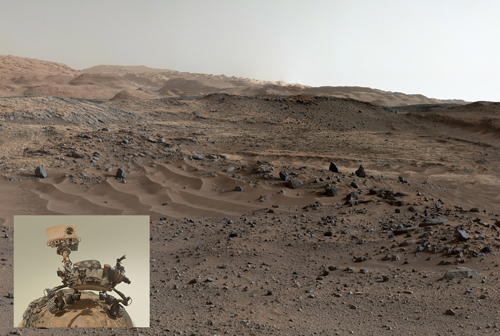 Curiosity

Image: NASA,JPL-Caltech and MSSS: Andrew Bodrov
Curiosity Rover reached its third anniversary on August 5th and, to celebrate has taken two spectacular images. The first is a dramatic panorama of the diverse terrain on the slopes of Mount Sharp. The second is a 'selfie' which is a composite of 92 images taken with the camera mounted on its robotic arm.