The Night Sky December 2018
Compiled by Ian Morison
This page, updated monthly, will let you know some of the things that you can look out for in the night sky. It lists the phases of the Moon, where you will see the naked-eye planets and describes some of the prominent constellations in the night sky during the month.
New(ish)
The author's: Astronomy Digest
which, over time, will provide useful and, I hope, interesting articles for all amateur astronomers. A further aim is to update and add new material to link with the books recently published by Cambridge University Press and which are described on the home page of the digest. It now includes well over 50 illustrated articles.
Image of the Month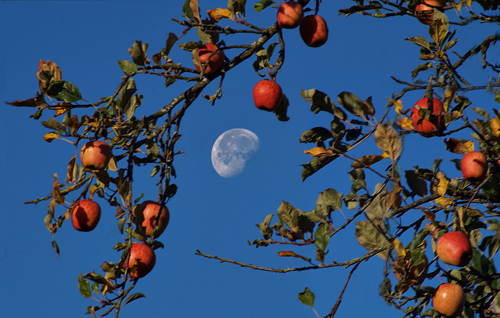 Homage to Isaac Newton
Image:Ian Morison
Newton wondered why, though apples fell to the ground, the Moon did not. His moment of genius was to realise that the Moon WAS falling. In a thought experiment in his book 'A Treatise of the System of the World' he envisaged a canon atop a mountain above the Earth's atmosphere firing its projectiles horizontally. As the muzzle velocity is increased, it will fall to ground at greater distances from the mountain. However, when the muzzle velocity reaches 7,300 m/sec, the projectile falls at the same rate as the 'falling' surface of the Earth, so remains in orbit at the same height above Earth.
Newton was able to calulate the value of the gravitational constant 'g' at the height of the Moon and it was 1/3,600 that on the Earth's surface. He knew that the Moon was 60 Earth radii from its centre so the value of g had fallen by the distance from the centre of the Earth squared. Before he could publish his theory of gravity, he had to prove that the gravitational effect of the Earth's mass was the same as if all the mass were concentrated at a point in its centre and was able to show that this was true by using 'fluxions' his development what is now called calculus.
He was able to derive Kepler's 'Third Law of Planetary Motion' from his equation and so knew that his law was valid throughout the solar system. He thus felt justified is calling it 'The Universal Law of Gravitation'.
An article 'Homage to Newton, describing how this image was created can be found in the digest whose link is above.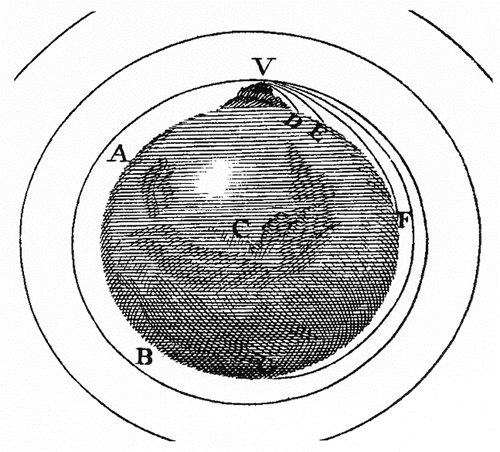 Newton's Mountain