The Night Sky December 2013
Compiled by Ian Morison
This page, updated monthly, will let you know some of the things that you can look out for in the night sky. It lists the phases of the Moon, where you will see the naked-eye planets and describes some of the prominent constellations in the night sky during the month.
Image of the Month
Comet ISON: RIP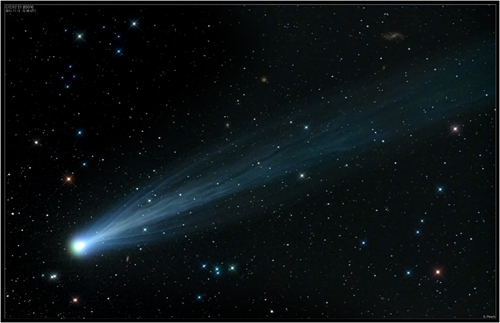 Comet ISON

Image: Damian Peach
ISON, the comet that few of us saw. I had hoped to show you how to look for what some had predicted would be the comet of the century during the early part of December. Sadly, as I write on the morning after ISON passed close behind the Sun on the 28th November, it looks as though Suns gravitational forces broke it up and little has emerged to give us a spectacular sight this December. This image, by the renowned Solar System imager Damian Peach, is by far the best of any taken as ISON approached the Sun, and I thank him for allowing me to reproduce it.
Postscript: December 3rd.
Shown below is a composite image of the final hours of comet ISON as it rounded the Sun. As of December 2nd, it was just a cloud of debris no brighter than 8th magnitude. It is just possible that its remnants might be spotted in the pre dawn sky but it will be very hard to spot.
To see more of Damian Peach's wonderful images of the solar system: Damian Peache's website