The Night Sky May 2016
Compiled by Ian Morison
This page, updated monthly, will let you know some of the things that you can look out for in the night sky. It lists the phases of the Moon, where you will see the naked-eye planets and describes some of the prominent constellations in the night sky during the month.
Cambridge University Press has recently published two books by the author.
An Amateurs Guide to Observing and Imaging the Heavens
is a handbook aimed to bridge the gap between the beginner's books on amateur astronomy and the books which cover a single topic in great detail. Stephen James O'Meara and Damian Peach have both given it excellent reviews.
'A Journey through the Universe'
covering our current understanding of the Universe has been given a very nice review by our Astronomer Royal, Martin Rees.
Two great highlights this month: the transit of Mercury on the 9th and the opposition and closest approach of Mars on the 22nd and 29th of May.
Image of the Month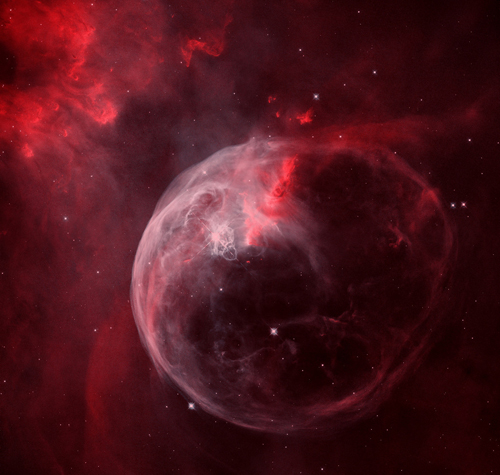 Hubble Image of the Bubbel nebula NGC 7635

Image:AURA/STScI, ESA, NASA, Hubble Heritage Team

The seven light-year diameter Bubble Nebula is the result of a fierce solar wind ejected from the O-type star above and to the left of its centre. The star is several hundred thousand times more luminous that our Sun and 45 times more massive. The nebula lies some 7,100 light years distant in the Constellation Cassiopeia. This image was taken to commemorate the 26th anniversary of Hubble's launch in 1990.