The Night Sky September 2016
Compiled by Ian Morison
This page, updated monthly, will let you know some of the things that you can look out for in the night sky. It lists the phases of the Moon, where you will see the naked-eye planets and describes some of the prominent constellations in the night sky during the month.
Cambridge University Press has recently published two books by the author.
An Amateurs Guide to Observing and Imaging the Heavens
is a handbook aimed to bridge the gap between the beginner's books on amateur astronomy and the books which cover a single topic in great detail. Stephen James O'Meara and Damian Peach have both given it excellent reviews.
'A Journey through the Universe'
covering our current understanding of the Universe has been given a very nice review by Martin Rees.
Image of the Month
Colliding Galaxies in Stephan's Quintet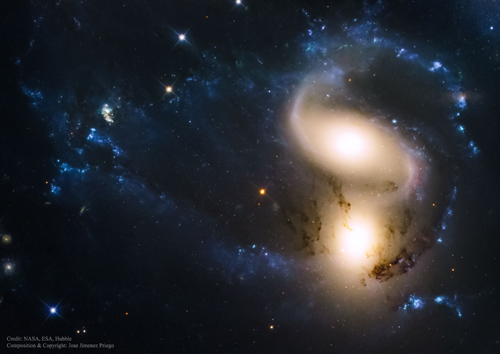 Colliding Galaxies in Stephan's Quintet

Image: ESA,NASA,Hubble Legacy Archive. Jose Jimenez Priego /
This is a Hubble Telescope image of the two spirals making up NGC 7318 in Stephan's Quintet. Ultimately the two galaxies will combine into one and trigger new episodes of star formation as a new, larger, galaxy arises. Stephan's Quintet lies at a distance about 300 million light years beyond the constellation Pegasus.