The Night Sky February 2017
Compiled by Ian Morison
This page, updated monthly, will let you know some of the things that you can look out for in the night sky. It lists the phases of the Moon, where you will see the naked-eye planets and describes some of the prominent constellations in the night sky during the month.
New
The author's: Astronomy Digest
which, over time, will provide useful and, I hope, interesting articles for all amateur astronomers. A further aim is to update and add new material to link with the books recently published by Cambridge University Press. February 2017:
All About Refractors Part 2: Their superb image quality. Imaging the Moon and planets in the Infrared
which provides additional material for both 'An Amateurs Guide...' and 'The Art of Astrophotography'.
Cambridge University Press has recently published two books by the author.
'An Amateurs Guide to Observing and Imaging the Heavens'
is a handbook aimed to bridge the gap between the beginner's books on amateur astronomy and the books which cover a single topic in great detail. Stephen James O'Meara and Damian Peach have both given it excellent reviews.
'A Journey through the Universe'
based on the lectures the author gave as Gresham Professor of Astronomy covers our current understanding of the Universe. Martin Rees has written a very nice review of it. Last month's astronomy digest updates the chapter 'Proving Einstein Right'.
On the second of February this year CUP are publishing a third book by the author entitled
'The Art of Astrophotography'
whose aim is to cover all aspects of astrophotograpy by using a series of imaging examples (starting with just a DSLR and tripod) which detail the equipment required, the best way to undertake the imaging and, most importantly, how to process the captured data to produce high quality results. The author's digest will be providing updates on the available equipment and additional imaging examples as in this months digest.
Image of the Month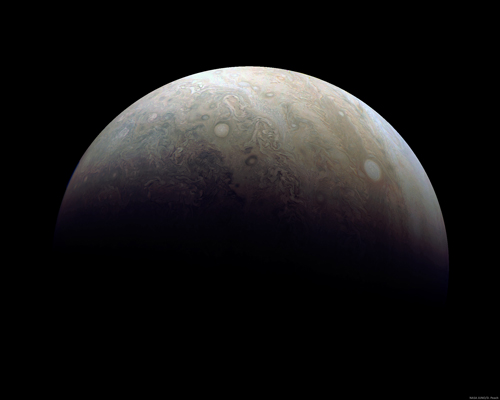 Juno image of Jupiter

This image of southern Jupiter was taken by the Juno Spacecraft from a distance of 37,000 km. The south polar region lies to the left whilst to the right is a large whitish oval which is a massive, counter clockwise, rotating storm system. It is about half about half the diameter of Planet Earth.