The Night Sky April 2017
Compiled by Ian Morison
This page, updated monthly, will let you know some of the things that you can look out for in the night sky. It lists the phases of the Moon, where you will see the naked-eye planets and describes some of the prominent constellations in the night sky during the month.
New
The author's: Astronomy Digest
which, over time, will provide useful and, I hope, interesting articles for all amateur astronomers. A further aim is to update and add new material to link with the books recently published by Cambridge University Press and which are described on the home page of the digest.
April 2017: A link to a 50 minute video 'The Art of Astrophotography'. A survey of lunar and star charts, books and software. Problems with Registax when using raw video files.
Image of the Month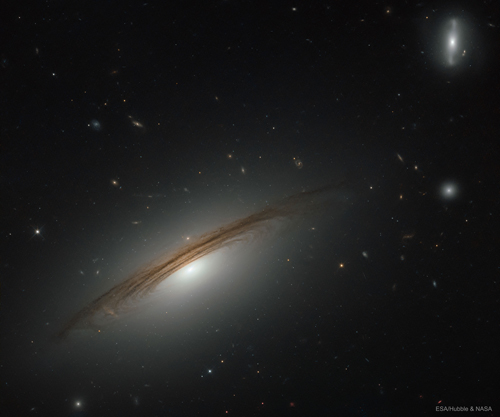 The galaxy UGC1259
Image NASA, ESA, Hubble Space Telescope.
This is a difficult galaxy (which lies at a distance of ~400 million light years) to identify as it has dark dust lanes like a spiral galaxy but a large diffuse bulge of stars like a lenticular galaxy. Surprisingly, its outer parts are rotating at about 480 km/sec - almost twice as fast as in our galaxy and is the fastest rotation rate yet measured. The mass needed to hold this galaxy together is several times the mass of our Milky Way Galaxy indicating a sunstantial amount of dark matter.