The Night Sky September 2017
Compiled by Ian Morison

See highlight above.

This page, updated monthly, will let you know some of the things that you can look out for in the night sky. It lists the phases of the Moon, where you will see the naked-eye planets and describes some of the prominent constellations in the night sky during the month.
New
The author's: Astronomy Digest
which, over time, will provide useful and, I hope, interesting articles for all amateur astronomers. A further aim is to update and add new material to link with the books recently published by Cambridge University Press and which are described on the home page of the digest. It now includes 27 illustrated articles.
September 2017: Using a tablet to control a DSLR Dark adaptation and limiting magnitude Imaging the Andromeda Galaxy under light polluted skies
Image of the Month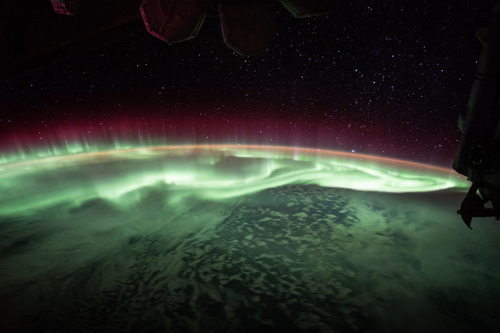 Aurora Australis
Image Jack Fischer, ISS Expedition 522, NASA
This beautiful image of the Aurora Australis was taken from the ISS on June 25th this year. The green glow emitted by oxygen atoms excited by solar particles dominates the scene but, higher in the atmosphere, a reddish glow is also visible. Canis Major is the constellation seen towards the right of the image, with Sirius just above the horizon.