The Night Sky April 2018
Compiled by Ian Morison

See highlight above.

This page, updated monthly, will let you know some of the things that you can look out for in the night sky. It lists the phases of the Moon, where you will see the naked-eye planets and describes some of the prominent constellations in the night sky during the month.
New
The author's: Astronomy Digest
which, over time, will provide useful and, I hope, interesting articles for all amateur astronomers. A further aim is to update and add new material to link with the books recently published by Cambridge University Press and which are described on the home page of the digest. It now includes over 40 illustrated articles.
Image of the Month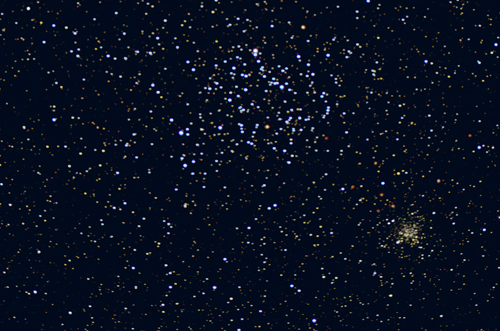 The clusters M35 and NGC 2158
Image Ian Morison
This image, taken by the author using a 127 mm refractor and DSLR camera, shows two clusters in Gemini. The larger cluster, including many blue giant stars is Messier 35 and is relatively young at 150 million years old and contains around 2,500 stars spread over a volume 30 light across. It lies at a distance of 2,800 light years. Down to its right lies a far older open cluster, NGC 2158 some 1,500 years old, which lies at a distance of about 11,000 light years. By this age, blue giant stars will have come to the end of their lives and so the cluster is dominated by yellow stars, hence its colour.
The above image shows what can done with simple equipment from a light polluted location. How the data was talken and processed can be found on the author's Astronomy Digest website. Perhaps the best image ever taken of these two clusters can be found on the APOD website of January 3rd 2013. This image was taken using a 20 inch f/3 Cassegrain telescope and CCD camera from one of the world's darkest locations in Namibia by Dieter Willasch.