The Night Sky February 2014
Compiled by Ian Morison
This page, updated monthly, will let you know some of the things that you can look out for in the night sky. It lists the phases of the Moon, where you will see the naked-eye planets and describes some of the prominent constellations in the night sky during the month.
Image of the Month
Supernova in M82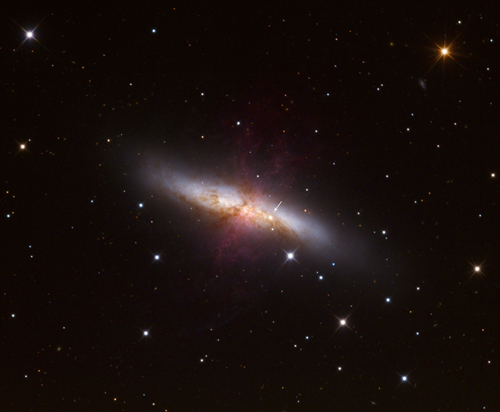 M82 Supernova

Image: Adam Block, Mt.Lemmon SkyCenter, University of Arizona.
A beautiful image of M82 taken by Adam Block showing the Type 1a supernova that was discovered by students at the University College London, Mill Hill Observatory, on the 21st January. M82 lies 12 million light years away in the constellation Ursa Major. Though it will be fading during February it should still be visible in a small telescope. A Type 1a supernova results when a white dwarf star accrets matter from a companion star. When the mass of the white dwarf exceeds the Chandrasekhar Limit (about 1.44 solar masses) when the star can no longer be supported by electron degeneracy pressure, it explodes. The peak brightness of a Type 1a supernova is believed to be constant and so these can be used as "standard candles" to determine the distances of remote galaxies. This has shown that the Universe is expanding at an increasing rate and is evidence for dark energy.