The Night Sky January 2014
Compiled by Ian Morison
This page, updated monthly, will let you know some of the things that you can look out for in the night sky. It lists the phases of the Moon, where you will see the naked-eye planets and describes some of the prominent constellations in the night sky during the month.
Image of the Month
Seyfert's Sextet of Galaxies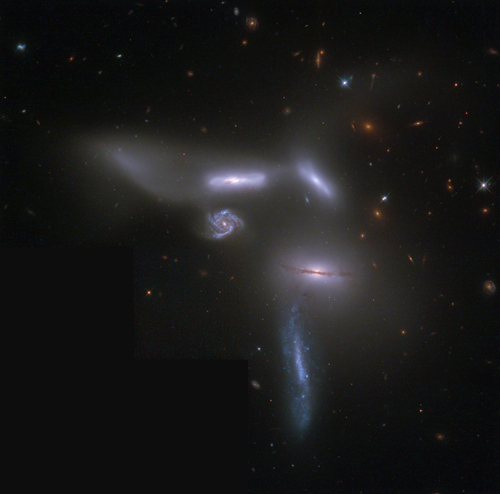 Seyfert's Sextet

Image: Hubble Space telescope Legacy Archive,NASA,ESA; processed by Judy Schmidt
Known as Seyfert's Sextet, this intriguing group of galaxies lies in the constellation Serpens. There are, in fact, only four galaxies that are interacting by gravity as the small face-on galaxy just to the left of centre is a chance alignment. The region of stars seen to the upper left is though to be a tidal stream of stars flung out by the galaxies' gravitational interactions. The group lies at a distance of ~190 million light years and only spans about 100,000 light years across, comparable in overall size to our own Milky Way Galaxy, and is one of the densest galaxy groups know. Gravity will pull them ever closer until, in a few billion years, they will coalesce into a single amorphous galaxy and this beautiful view will be lost for ever.