The Night Sky March 2014
Compiled by Ian Morison
This page, updated monthly, will let you know some of the things that you can look out for in the night sky. It lists the phases of the Moon, where you will see the naked-eye planets and describes some of the prominent constellations in the night sky during the month.
Image of the Month
The Opportunity Rover on Mars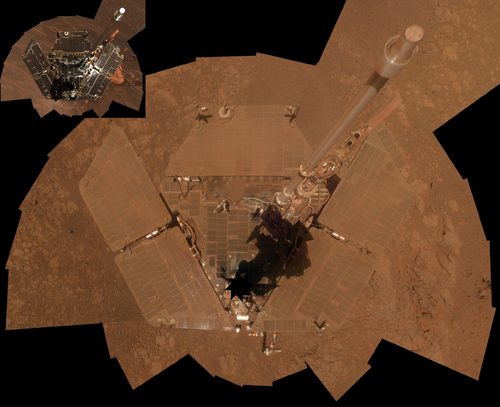 Opportunity Rover 10 years on.

Image: NASA/JPL-Caltech/Cornell/Arizona State University.
On January 25th 2004, the Opportunity Rover landed on the surface of Mars and began its exploration. The original mission plan was for just three months but, over 10 years later it is still operational and activly exploring the Martian surface. Dust devils crossing the surface of Mars have helped remove dust from the flat solar panel array, but in comparison to the inset image from 2004 one can see that, now, more dust lies on them so reducing their efficiency. Opportunity has driven 24 miles from its landing site and now rests at Solander Point on the rim of Endevour Crater.