The Night Sky October 2018
Compiled by Ian Morison
This page, updated monthly, will let you know some of the things that you can look out for in the night sky. It lists the phases of the Moon, where you will see the naked-eye planets and describes some of the prominent constellations in the night sky during the month.
New(ish)
The author's: Astronomy Digest
which, over time, will provide useful and, I hope, interesting articles for all amateur astronomers. A further aim is to update and add new material to link with the books recently published by Cambridge University Press and which are described on the home page of the digest. It now includes nearly 50 illustrated articles.
Image of the Month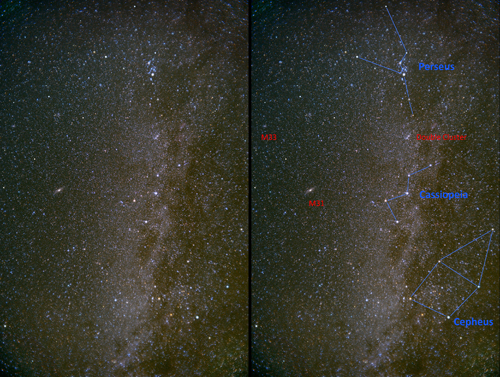 The Northern Milky Way with Cassiopeia and Perseus
Image: Ian Morison
The northern Milky Way is less prominent than that towards the south from as we are looking well away from the Galactic Centre. Two intersting constellations lie along it; Cassiopeia and Perseus, with the Perseus Double Cluster lying between them. The prominent 'V' of Cassiopeia points towards M31, the Andromeda Galaxy and, beyond, to M33 in Triangulum. This image was taken under the pristine skies of the Kerry 'Gold Tier' dark sky reserve using a Nikon full frame camera and 24 mm prime lens on a tracking mount. The methods by which this image was produced from the set of frames captured by the camera are detailed in an article 'Wide Field Imaging:....'that can be found on the author's Astronomy Digest whose link is above.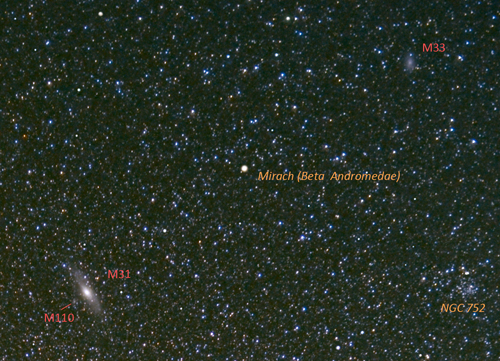 The galaxies M31, M110 and M33