The Night Sky November 2018
Compiled by Ian Morison
This page, updated monthly, will let you know some of the things that you can look out for in the night sky. It lists the phases of the Moon, where you will see the naked-eye planets and describes some of the prominent constellations in the night sky during the month.
New(ish)
The author's: Astronomy Digest
which, over time, will provide useful and, I hope, interesting articles for all amateur astronomers. A further aim is to update and add new material to link with the books recently published by Cambridge University Press and which are described on the home page of the digest. It now includes over 50 illustrated articles.
Image of the Month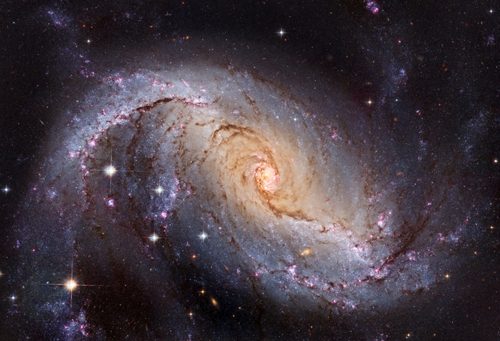 The barred spiral galaxy NGC 1672.
Image: Hubble Legacy Archive, ESA, NASA.
NGC 1672 is a spiral galaxy with a prominent central bar. This wonderful Hubble image shows dark dust lanes, young clusters of bright blue stars and pink-red HII emission regions (like our Orion nebula) of star formation. It centre harbours a supermassive black hole. Lying some 60 million light years away in the constellation of Dorado it spans about 75,000 light years across.