The Night Sky June 2017
Compiled by Ian Morison
This page, updated monthly, will let you know some of the things that you can look out for in the night sky. It lists the phases of the Moon, where you will see the naked-eye planets and describes some of the prominent constellations in the night sky during the month.
New
The author's: Astronomy Digest
which, over time, will provide useful and, I hope, interesting articles for all amateur astronomers. A further aim is to update and add new material to link with the books recently published by Cambridge University Press and which are described on the home page of the digest.
June 2017: Imaging the Milky Way from the Kerry Dark Sky Reserve. The QHY Polemaster - an innovative way to align a polar mount. Enhancing Planetary Images
Image of the Month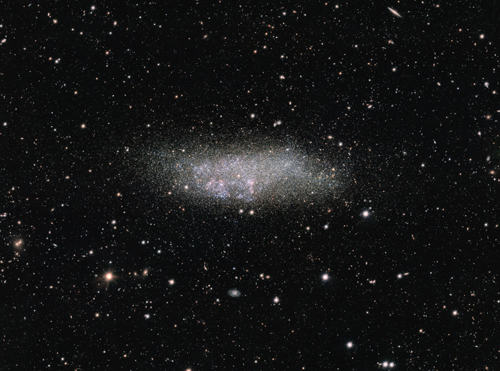 The dwarf galaxy Wolf-Lundmark-Melotte
Image ESO, VST/Omegacam Local Group Survey
Named after the three astronomers who discovered it, Wolf-Lundmark-Melotte is a lonely dwarf galaxy in the southerley constellation Cetus. Lying at a distance of ~3 million light-years from the Milky Way, it is one of the most remote members of our local group of galaxies. It contains pinkish star forming regions - like our Orion Nebula - and many young blue stars whilst it has an outer halo extending some 8,000 light years across containing older yellow stars. This image was captured with the 286 megapixel OmegaCAM camera.