The Night Sky July 2017
Compiled by Ian Morison
This page, updated monthly, will let you know some of the things that you can look out for in the night sky. It lists the phases of the Moon, where you will see the naked-eye planets and describes some of the prominent constellations in the night sky during the month.
New
The author's: Astronomy Digest
which, over time, will provide useful and, I hope, interesting articles for all amateur astronomers. A further aim is to update and add new material to link with the books recently published by Cambridge University Press and which are described on the home page of the digest.
July 2017: Combating Atmospheric Dispersion Imaging the Moon and Jupiter with a telephoto lens Attending a Star Party
Image of the Month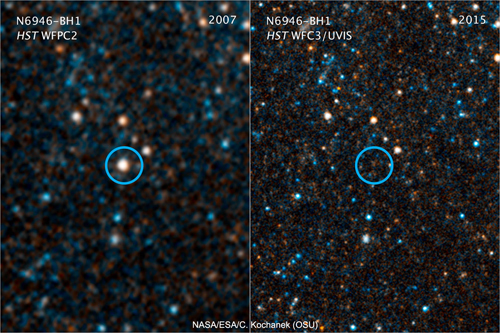 A disappearing star
Image HST, NASA, ESO, HST. C Kochanek (OSU)
A few years ago, the HST imaged a star, N6946-BH1. There is now just a faint glow in its location and no supernova has been observed. It is believed that the gravity of the ~25 solar mass star held the star together during its final death throes after which the majority of its mass sank into a black hole. The remainder forms an accretion disk around it and emits some faint infrared emission as it spirals into the black hole. It appears that some giant stars can end their life with a wimper rather than a bang! Note the improved image quality using the new camera, WFC3.