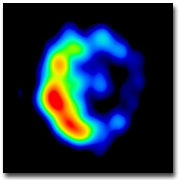 Radio image of the exploding star RS Ophiuchi
My research interests lie in the broad area of astrophysical gas dynamics mainly applied to circumstellar phenomena.

These include theoretical and observational studies of classical and recurrent nova explosions, supernovae and planetary nebulae.

I combine modelling with observation at wavelengths ranging from the radio to the X-ray.
Click here to obtain a list of my research papers from the Smithsonian/NASA Astrophysics Data System.