Observing run - Dec 2002 to Feb 2003
The latest observing run was for 2 months over winter 2002-2003. The run was very successful, and we observed over 1000 sq degrees of sky. The observations were concentrated along the Supergalactic plane, including the Ursa Major Cluster. This is the first time that the whole of Ursa Major has been surveyed in HI. We also observed nearly the whole of the Northern Celestial Cap region of sky (dec. > +78 degrees).

Below is a HI peak intensity map of the Supergalactic plane, between declination +22 to +54 degrees, and RA 11h30m to 13h. Each white/orange point is a galaxy detected by HIJASS. The concentration of galaxies seen top-middle of the plot is the Ursa Major cluster.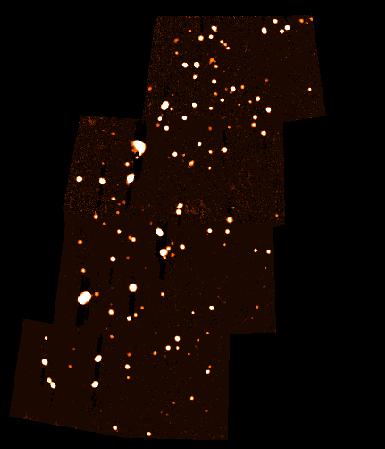 Observing run - January 2002
Two full weeks of data were obtained in January 2002. The partially upgraded Lovell telescope was used with success - the new drive system saved considerable time in changing observing position, and allowed a greater flexibility in scheduling. The RMS noise gained in this run was 20-30% lower than in previous runs, due to a combination of the upgraded telescope and a concerted effort to prevent on-site interference. Four main regions were surveyed - part of the north of the Virgo cluster, the edge of the M81 group, the region around M33 and part of the supergalactic plane at 66 degrees Declination. In addition to the survey areas, ~80 pointed observations were made of detections found in previous observing runs. These observations used a narrow-band filter (16 MHz), and were primarily confirmation observations.

Below shows a peak intensity map of part of the north of the Virgo cluster, from 150-850 km/s. Several bright galaxies can be seen in the HI map (all are known optically).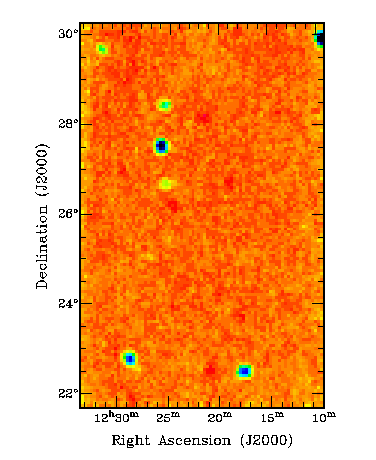 Upgrade of the Lovell Telescope
The Lovell telescope is currently undergoing a face-lift, with a new surface being put in place. The result will be a much more sensitive surface, and accurate drive system.