Watch the Skies!
18 Aug 2014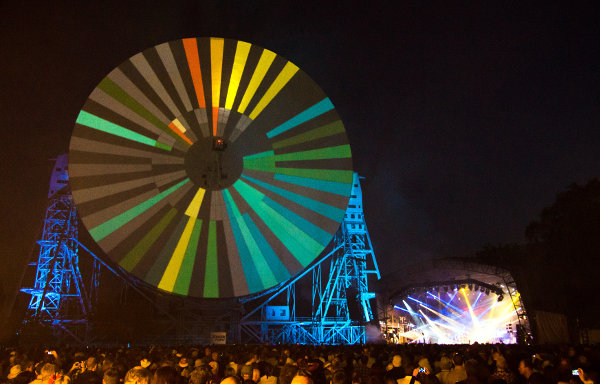 Live from Jodrell Bank July 2013 featuring New Order and projections on to the Lovell Telescope.Credit: Anthony Holloway.
We are excited to announce the first ever large-scale outdoor cinematic event at The University of Manchester's Jodrell Bank Observatory, home to one of the largest radio telescopes in the world and world-leading centre for research in astrophysics.
Working with Abandon Normal Devices, this weekend of interstellar cinema will bring you to the darkest space of the universe as we make contact with the unknown - expect evolutionary tales of artificial life, dark stars, extra-terrestrial encounters and drama on a planetary scale.
'Watch the Skies!' will capture humankind's drive to explore and exploit new frontiers featuring classic science fiction films 2001: A Space Odyssey and Alien against the spectacular, iconic backdrop of the Lovell Telescope, alongside talks from specialists at Jodrell Bank on space probes, extra-terrestrial life and exploration of the invisible universe..
The weekend also features two exclusive world premieres and commissions from Manchester based Soup Collective, and US acclaimed electronic musician Oneohtrix Point Never.
This is a weekend not to be missed for sci-fi fans across the UK. Watch the Skies! is a flagship event in the BFI Blockbuster project SCI-FI: DAYS OF FEAR AND WONDER, presented together with O2, when more than 576 Sci-Fi screenings and events will be offered through the BFI Film Audience Network (BFI FAN), screening at least 419 titles at 124 locations nationwide.
Tickets go on sale at 12:00 on Tuesday 26th August 2014. £15 full / £12.50 conc.
Visit http://www.abandonnormaldevices.org/wts. Track our journey #WatchtheSkies
Friday 3 October 2014
'Kubrick Returns to Jodrell' – In 1966 Kubrick recognised the iconic role of Jodrell Bank, selecting the renowned physicist and radio astronomer Sir Bernard Lovell to be interviewed for the original prologue to Kubrick's yet to be made sci-fi masterpiece. This prologue featured a number of renowned thinkers talking about the possibility of alien cultures, intelligent computers and the origins of life.
The short film is now lost, but the transcript of the interview still exists and we use this as the inspiration for a night, which celebrates the meeting of these two great minds, with special one-night only screening.
Featuring a special AV commission for projection onto the Lovell Telescope (weather permitting) from Soup Collective, plus archival material marking the scientific legacy of Sir Bernard Lovell. We finish in style with Kubrick's spectacularly transcendent epic, 2001: A Space Odyssey (U/GB/US/150mins), which has been the touchstone for all science-fiction cinema since it first hit the screens, in 1968.
Extra events
Drawing on the wealth of archive material relating to the space race available at Jodrell Bank, including the very first picture sent from the surface of the Moon (which sadly does not show evidence for a black monolith), scientists from the University of Manchester will address some of the central questions '2001: A Space Odyssey' poses in talks and discussion before the main feature. The talks will take place in Jodrell Bank's Discovery Centre, whose exhibition galleries will also be open to visitors to the event.
About Soup Collective
: Soup divvy up their time between producing long-form films and promos for the likes of Elbow, The Verve and Editors alongside developing their own film-based projects.
Saturday 4 October 2014
'In space no one can hear you scream' - On Saturday the programme takes audiences on a sonic journey as we tune into signals from other planets, satellites and interstellar phenomena.
Ridley Scott's sci-fi horror Alien (18, GB/US/117mins) takes us into the night as we watch the crew of the Nostromo, follow a distress signal from a nearby planet. The resolute Sigourney Weaver stars as Lieutenant Ellen Ripley in a role which would be a game changer for sci-fi characters.
Preceding this is the world premiere of a new live soundtrack from acclaimed Warp Records artist Oneohtrix Point Never for the film Magnetic Rose – an anime short film from Katsuhiro Otomo (the creator of Akira) - alongside rarely seen footage of Sputnik 1, the Russian satellite, whose rocket was tracked by Jodrell Bank and which launched the Space Race on 4 October 1957.
Extra events
Accompanying talks will respond to the Alien slogan 'In space no one can hear you scream', drawing on various sounds from the Jodrell archive and the research undertaken at the centre, including the search for radio signals from extra-terrestrial civilisations (SETI), the tracking of spacecraft and study of exotic phenomena such as pulsars and black holes. The talks will take place in Jodrell Bank's Discovery Centre, whose exhibition galleries will also be open to visitors to the event.
About Oneohtrix Point Never : Oneohtrix Point Never is Daniel Lopatin, a US native at the forefront of the modern electronic composition. Though Lopatin's rise felt meteoric following his 2009 double-disc anthology Rifts and its 2010 follow-ups Returnal and Replica, (praised by the likes of Wire, Pitchfork, Fader, Guardian UK, The Quietus, and XLR8R) his career with music is lifelong. Previously Lopatin has contributed notable compositions to Sophia Coppola's The Bling Ring soundtrack, Doug Aitken's SONG1 Happening, the Saatchi & Saatchi New Directors showcase, as well as toured and remixed for Trent Reznor's Nine Inch Nails. The most recent Oneohtrix Point Never album R Plus 7 was a critical hit, gaining Lopatin a place in NME's 100 most influential artists.
Watch the Skies! is curated and commissioned by Abandon Normal Devices and produced in partnership with Jodrell Bank and Live from Jodrell Bank Transmissions and funded through the BFI Programme Development Fund.
Tickets go on sale at 12:00 on Tuesday 26 August 2014. £15 full / £12.50 conc.
Visit http://www.abandonnormaldevices.org/wts. Track our journey @ANDFestival @jodrellbank #WatchtheSkies
Background information
About Abandon Normal Devices
Abandon Normal Devices (AND) is a catalyst for new approaches to art-making and digital invention, commissioning ground breaking projects which challenge the definitions of art and moving image.
Inviting artists to hijack the imagination, by developing projects which abandon traditional settings and partnerships, with a distinct emphasis on creative enquiry and provocations. AND brings together an eclectic mix of academics, filmmakers, scientists and anarchists to actively push the boundaries of audience experience and arts production.
The AND portfolio consists of film happenings, exhibitions, performances, online projects, residencies, public realm interventions and a roaming biennial festival.
AND was originally founded by national organisations FACT (Foundation for Art and Creative Technology), Cornerhouse and folly. To date AND has commissioned 60 new works and has worked with pioneering and award winning artists from across the globe.
www.abandonnormaldevices.org @ANDFestival
About Jodrell Bank Observatory, The University of Manchester
Jodrell Bank Observatory is the home of the Lovell Telescope and operates e-MERLIN, the UK's national radio astronomy facility comprising up to seven radio telescopes spread over 217km and connected by an optical fibre network. It also hosts the International Headquarters of the Square Kilometre Array, an ambitious project to build the world's next large radio telescope in South Africa and Australia.
Jodrell Bank is a world leader in radio astronomy-related research and technology development with a research programme ranging from the study of stars and planets to the origin of the Universe in the Big Bang.
www.jodrellbank.manchester.ac.uk @jodrellbank
About Jodrell Bank Discovery Centre, The University of Manchester
Jodrell Bank Discovery Centre welcomes visitors to the Observatory and engages them directly with research going on at the site. The Centre features exhibitions on topics from cosmology to the search for life, including the work of the Lovell Telescope and others around the world. It offers opportunities to meet the scientists, short courses and other events including in literature, music and the arts. Visitors can also explore extensive gardens and enjoy the award-winning café. The Centre has won several awards since opening in 2011, including Marketing Cheshire's Tourism Attraction of the Year in 2011 and 2012, Best Tourism Event in 2013, and Live from Jodrell Bank won the award for Extreme Creativity in the 2012 UK Festival Awards.
www.jodrellbank.net @jodrellbank
About Live from Jodrell Bank
Live from Jodrell Bank: The Transmissions, are a series of one day shows taking place on an outdoor stage in the shadow of the iconic Lovell Telescope at The University of Manchester's Jodrell Bank Observatory. Previous Transmissions featuring The Flaming Lips & Elbow have been national award winning for innovation and creativity. Featuring a diverse array of internationally renowned musical artists alongside interactive science activities organised by Jodrell Bank with projections on the 76 metre high Lovell Telescope, it's a show like no other.
Returning with more shows in 2015. Check www.livefromjodrellbank.com for details. @Livefromjodrell
About Warp Records
Warp Records, is a pioneering independent British record label, founded in Sheffield in 1989, notable for discovering some of the more enduring artists in electronic music.
Founded by Steve Beckett and the late Rob Mitchell, Warp Records is home to the most influential artists in electronic music.
warp.net/records/
@WarpRecords
@0PN
About the BFI
The BFI is the lead body for film in the UK with the ambition to create a flourishing film environment in which innovation, opportunity and creativity can thrive by:
Connecting audiences to the widest choice of British and World cinema
Preserving and restoring the most significant film collection in the world for today and future
Championing emerging and world class film makers in the UK
Investing in creative, distinctive and entertaining work
Promoting British film and talent to the world
Growing the next generation of film makers and audiences generations
SCI-FI: DAYS OF FEAR AND WONDER
will be the BFI's biggest season to date, with over 1000 screenings of classic films and television programmes at over 200 locations across the UK. It includes a three-month programme at BFI Southbank, from 20 October until 31 December 2014, with special events, guests and screenings right across the UK. With outdoor events at iconic British sites, classic Sci-Fi titles released into UK cinemas and on DVD and Blu-ray, 50+ films available online through BFI Player, a BFI Sci-Fi Compendium and much more, SCI-FI: DAYS OF FEAR AND WONDER, presented together with O2 will celebrate cinema's most spectacular and visionary genre, exploring how the fear and wonder at its heart continues to inspire and enthral in one of the largest and most ambitious Sci-Fi projects ever created.
www.bfi.org.uk/sci-fi @BFI #BFISciFi
Media enquiries
Aeron Haworth
Senior Media Relations Officer
The University of Manchester
Tel: 0161 275 8387
Email: aeron.haworth@manchester.ac.uk