Collaboration between the King Abdulaziz City for Science and Technology and the University of Manchester
15 April 2013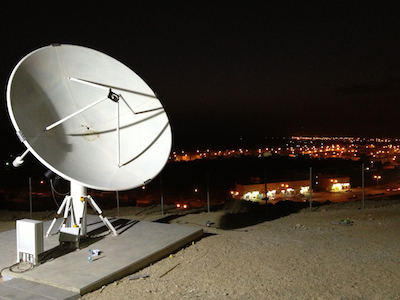 The 3.8m KACST radio telescope, at the Solar Village, near Riyadh, Saudi Arabia.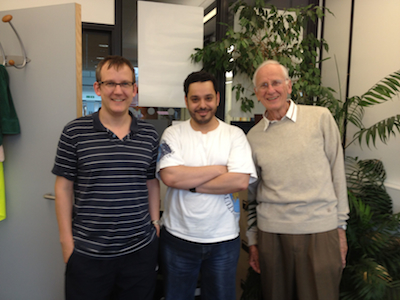 Dr. Yaser Hafez (centre) visiting Manchester in September 2012 with Dr Clive Dickinson (left) and Prof Rod Davies (right). Regular visits are made between KACST and the University of Manchester.
A collaboration has been formed between the King Abdulaziz City for Science and Technology (KACST) in Riyadh, Saudi Arabia and the Jodrell Bank Centre for Astrophysics (School of Physics & Astronomy) at the University of Manchester. KACST is an independent scientific organization administratively reporting to the King of Saudi Arabia and is both the Saudi Arabian national science agency and its national laboratories.
Jodrell Bank has had a long-standing connection with Saudi Arabia, with a number of students studying at the University of Manchester to gain their PhDs in astronomy. The current collaboration formally began in 2008 when Dr Yaser Hafez (Head of Astrophysics at the National Centre for Mathematics and Physics at KACST) invited Dr Clive Dickinson (STFC Advanced Fellow and Reader in astrophysics at the University of Manchester) to Riyadh to discuss radio astronomy projects. During this visit, Dr Dickinson met His Excellency Dr. Mohammed Al-Suwaiyel (President of KACST), and His Highness Prince Dr. Turki bin Saud bin Mohammad Al Saud (Vice President for Research Institutes) who has supported the official collaboration between KACST and University of Manchester.
Two projects are almost completed and future projects are being planned, based on radio astronomy and applications of both science and technology. The first project, originated by Dr Hafez and Dr Hamoud Alharbi (that have supported these projects at the National Centre for Mathematics and Physics at KACST), is the design, construction and implementation of a small radio dish for observing solar system bodies very close to each other in the sky (for example, the Moon and Sun a few degrees from each other). The telescope will also be used for monitoring bright astronomical objects and training students and technicians in Saudi Arabia. The receiver consists of a 10.7-12.75 GHz satellite receiver coupled to a 3.8m radio dish that can measure continuum radiation from any location in the sky. The receiver and telescope was built and tested at Jodrell Bank Observatory by two teams led by Prof Lucio Piccirillo at Manchester and Dr Yaser Hafez from KACST. The telescope has recently been installed at its final location at the Solar Village, near Riyadh, Saudi Arabia.
The second project, led by Dr Clive Dickinson at Manchester and Dr Hafez at KACST, is the construction of an ultra-sensitive 5 GHz broadband polarization receiver that will be installed on a 7.6m radio telescope located in the Karoo, South Africa. This is part of the southern survey for the C-Band All-Sky Survey (C-BASS), which will ultimately produce high signal-to-noise full-sky maps of intensity and polarization. The maps will be essential for cosmic microwave background (CMB) polarization experiments that aim to detect gravitational waves from the early universe. C-BASS is a collaboration between the University of Manchester, University of Oxford, the California Institute of Technology (U.S.), the Hartebeesthoek Radio Observatory (South Africa) and KACST (Saudi Arabia).
Dr Dickinson comments: "This is a unique opportunity to collaborate with Saudi Arabia, who are keen on supporting science and technology. I am keen to foster the links between the UK and Saudi Arabia – we have a lot to offer each other. We have a great working relationship with Dr Hafez and Dr Hamoud Alharbi at KACST". Dr Dickinson and Dr Hafez are discussing new projects including a 15 GHz polarization receiver that will be installed at Caltech's Owens Valley Radio Observatory in California, U.S.A.
For more information contact:
Clive Dickinson
Jodrell Bank Centre for Astrophysics
University of Manchester
United Kingdom
Tel: 0161 275 4232
Email: clive.dickinson@manchester.ac.uk