Elbow and Paul Weller to headline Live from Jodrell Bank
28 February 2012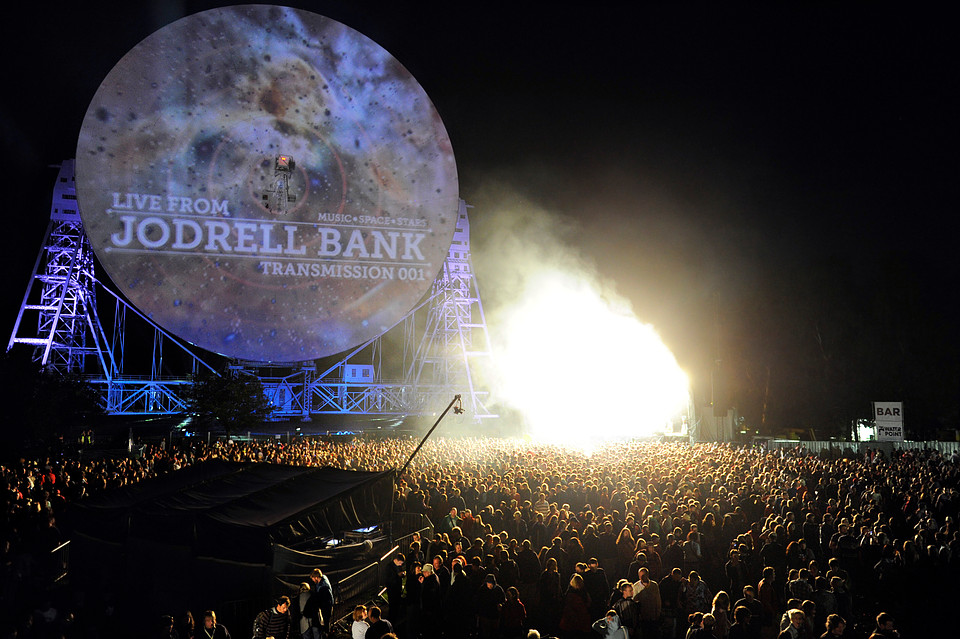 During the first Live from Jodrell Bank : Transmission 001 on July 2nd 2011 featuring Flaming Lips and British Sea Power.
23rd June - Elbow
+ Special Guests
24th June - Paul Weller
+ Special Guests
More details and ticket information : www.livefromjodrellbank.co.uk
We are thrilled to announce Transmission 002 with Elbow and Transmission 003 with Paul Weller, in which some of the greatest musical talent of our generation will perform large-scale outdoor concerts in the shadow of the iconic Lovell Telescope, one of the biggest and most powerful radio telescopes in the world.
Mercury Music and Brit Award winners Elbow, formed in 1991, have five top 20 studio albums under their belt including the phenomenal multi platinum The Seldom Seen Kid and most recent Build A Rocket Boys. The band have also been commissioned to compose the BBC 2012 London Olympics theme tune.
"I am a space nut. My cat is even named after the woman who discovered pulsars, and Patrick Moore does all the trailers and announcements for my 6 Music radio show. So as you would imagine, playing alongside the local icon of space exploration fills me with cosmic glee."

Guy Garvey - Elbow
Modfather Paul Weller is an internationally acclaimed star whose song-writing is a huge part of British Culture, throughout his musical career from his early days in The Jam, to his much loved hits with The Style Council, as well as a solo career spanning over 20 years. With Brit Awards, Mercury Nominations and an Ivor Novello Award, Paul Weller has provided music lovers with hits such as The Changing Man, You Do Something To Me and Wake Up the Nation.
The Live From Jodrell Bank series sees some of the most innovative artists performing in this unique and dramatic setting, marrying science and music and bringing the audience superlative sounds from Earth and beyond. The bands will even project visuals onto the 76-metre Lovell telescope. Last year The Flaming Lips, British Sea Power, OKGO and Wave Machines performed in front of this awe-inspiring backdrop in a show bought to you by the creative minds behind Kendal Calling, The Warehouse Project and Ear To The Ground working closely the scientists at Jodrell Bank Observatory and the Jodrell Bank Discovery Centre.
Before the spectacular evening concerts and throughout each day, attendees will be able to participate in a fantastic range of hands-on experiments and workshops on site at Jodrell Bank. With full access to the magnificent award-winning Jodrell Bank Discovery Centre included in every ticket, this is a great chance to find out more about the mind-blowing scientific research happening at Jodrell Bank, the University of Manchester and beyond. Explore the wonders of the Universe and find out for yourself why stargazing has enjoyed a massive resurgence in the past few years.
For over five decades, the giant Lovell Telescope at Jodrell Bank has been part of the Cheshire landscape and an internationally renowned landmark for astronomers. Since the summer of 1957 it has been exploring the depths of outer space in a quest for knowledge. It remains one of the biggest and most powerful radio telescopes in the world, spending most of its time investigating cosmic phenomena that were undreamed of when it was first conceived.
Live From Jodrell Bank - a stellar line-up in a truly unique location...
TICKET & TRAVEL INFO
Tickets £35 // no age restriction : www.ticketline.co.uk.
Coach tickets are available from various pick up points to buy from Ticketline.
Full travel info can be found at www.livefromjodrellbank.co.uk.
Jodrell Bank Artist and Press Quotes
ARTISTS
"At this moment, this is the greatest place to be on all of Planet Earth"
Wayne Coyne, Flaming Lips
"To stand here in the symbolic shadow of this great achievement I think is the best place to be on planet Earth right now."
Wayne Coyne, Flaming Lips
"How many rock gigs have a 2500 tonne radio satellite aimed at the stage!"
Yan, British Sea Power
"Jodrell Bank is one of the most unique environments OK Go has ever played in. If we could play all of our shows under a gigantic telescope probing space and watching over us like a giant eye, trust me, we would. It was a special night sharing the stage with The Flaming Lips and the crowd was one of the best UK crowds we've had the pleasure of playing for. Outer space rules and so does Jodrell Bank."
OK Go
"We felt a major sense of anticipation before the Jodrell Bank gig that was justified the moment the van turned a corner and we saw the Lovell telescope for the first time. Everybody on the site, bands and audience alike, seemed to be buzzing with the unspoken knowledge that we'd all got ourselves into something special."
Wave Machines
PRESS
"An exciting moment"
"The Flaming Lips succeed in making us feel like we really are in the greatest place on Planet Earth"
The Independent
"A spectacular gig" "Science is mysterious and intriguing, evolving and continually developing - just like music"
"It's clear that the crowds realise Transmission 001 is already something to remember for summers to come"
NME
"Everyone who was there will never forget, and everyone who wasn't there will never hear the end of it"
efestivals
"Inaugural event with an overwhelming sense of occasion"
"Spectacular setting"
Virtual Festivals
"There's little that can beat watching a movie on the face of a 76m-high telescope in the stakes for 'concert highlights of the year'."
Citylife, Manchester Evening News
"A truly unique and memorable experience at this stunning setting"
"One small step for man, and a giant leap for Live at Jodrell Bank. Bring on Transmission 002. We can't wait."
Skiddle
"The memory of their melodic music, drifting across that cool evening breeze under Cheshire's landmark telescope will probably stay with me forever." Creative Boom magazine
"Intergalactic vision" TPI (Total Production International)
Kendal Calling Festival
Kendal Calling was born in 2006 from a group of music lovers who felt the fields of Cumbria could be put to better use during the summer months - in the name of music, fun and frolics. Acts to the calibre of Blondie, Chase & Status, British Sea Power, Dizzee Rascal, Pendulum have brought the stage to life. Year on year the festival grew with DJ Yoda christening the newly introduced Dance tent with a set he considered "better than Glastonbury". Six years has gone by in the blink of an eye… as they say time flies when you're having fun and that's certainly been the case for us.
The Warehouse Project
In the autumn of 2006, three event promoters embarked on a project that has changed the face of Manchesterıs club scene and had a huge effect on the UK and beyond. Launching with the slogan 'For twelve weeks this city is ours' the Warehouse Project set out to establish a 'guerrilla' style club that was to run every Friday and Saturday night for a three-month period each year. Just as it was six years ago when they opened those gates to Boddingtons, The Warehouse Project remains a big experiment. One that continues to evolve organically and never really knows exactly how itıs going to turn out.
Jodrell Bank Observatory
Jodrell Bank Observatory is part of the University of Manchester. It is home to the iconic Lovell Telescope, at 76-metres in diameter still one of the world's largest telescopes. Jodrell Bank operates e-MERLIN, the UK's national radio astronomy facility, comprising up to seven radio telescopes spread 217 km across England. Connected by a high-speed optical fibre network they work as one giant telescope providing sharp images of the invisible radio sky. Jodrell Bank is also soon to be home to the headquarters of the SKA Organisation, dedicated to building the world's largest radio telescope, the Square Kilometre Array. The scientists who work at Jodrell Bank and in the University's Jodrell Bank Centre for Astrophysics, based in Manchester, are world leaders in radio astronomy-related research and technology development but also carry out research across the electromagnetic spectrum and in theoretical topics.
For more details visit www.manchester.ac.uk/jodrellbank.
The University of Manchester
The University of Manchester, a member of the Russell Group, is the most popular university in the UK. It has 22 academic schools and hundreds of specialist research groups undertaking pioneering multi-disciplinary teaching and research of worldwide significance.
According to the results of the 2008 Research Assessment Exercise, The University of Manchester is now one of the country's major research universities, rated third in the UK in terms of 'research power'. The University had an annual income of £788 million in 2009/10.
For more details visit www.manchester.ac.uk.