'J' is for Jodrell - Lovell Telescope features on new set of Royal Mail stamps
10 October 2011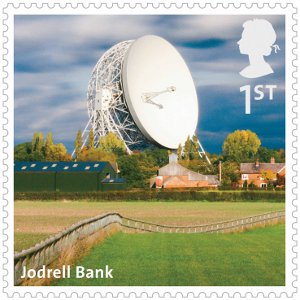 The new Royal Mail stamp featuring a photograph of the Lovell Telescope under 'J' for Jodrell Bank. Credit: The Royal Mail.
Jodrell Bank has been chosen to represent the letter 'J' in a new set of stamps featuring an A to Z of iconic landmarks from all four countries in the UK.
The stamp series is launched on 13th October with part one, a set of 12 First Class stamps from A to L. These stamps take a fresh look at some of the UKís most famous sights; ranging from ancient through to modern, and from the mystical to the magnificent.
To represent the letter 'J', Royal Mail has included the giant Lovell Telescope at Jodrell Bank.
Philip Parker, Royal Mail Stamps spokesperson, said: "Our A to Z stamps showcase some of the nationís most famous features, celebrating areas across the UK that are enjoyed by millions of people. Not only are these places much loved landmarks, they also reflect the variety of structures and sights which can be found across the UK."
"Jodrell Bank is a familiar feature of the Cheshire landscape and an internationally renowned landmark that makes for a wonderfully powerful image on a 1st Class stamp."
Dr Teresa Anderson, Director of the University of Manchesterís Jodrell Bank Discovery Centre said: "We are delighted that Jodrell Bank has been recognised as the iconic 'J' in the new Royal Mail 'A to Z of the UK' stamp issue. Jodrell Bank is a major UK landmark, and also carries out world-leading research in Astrophysics Ė which makes it a very special place."
Since 1957 the Lovell Telescope at Jodrell Bank has been quietly probing the depths of space. Even now, it remains one of the biggest and most powerful radio telescopes in the world, spending most of its time investigating cosmic phenomena which were undreamed of when it was conceived.
The set of 12 stamps features the following landmarks:
A = Angel of the North
B = Blackpool Tower
C = Carrick-a-Rede
D = Downing Street
E = Edinburgh Castle
F = Forth Railway Bridge
G = Glastonbury Tor
H = Harlech Castle
I = Ironbridge
J = Jodrell Bank
K = Kursaal (Southend)
L = Lindisfarne Priory
A-Z Part 2, covering letters M to Z, will follow in April 2012.
Various products, including presentation packs, can be ordered from the Royal Mail.
For Jodrell Bank media enquiries contact:
Daniel Cochlin
Media Relations
The University of Manchester
0161 275 8387
daniel.cochlin@manchester.ac.uk