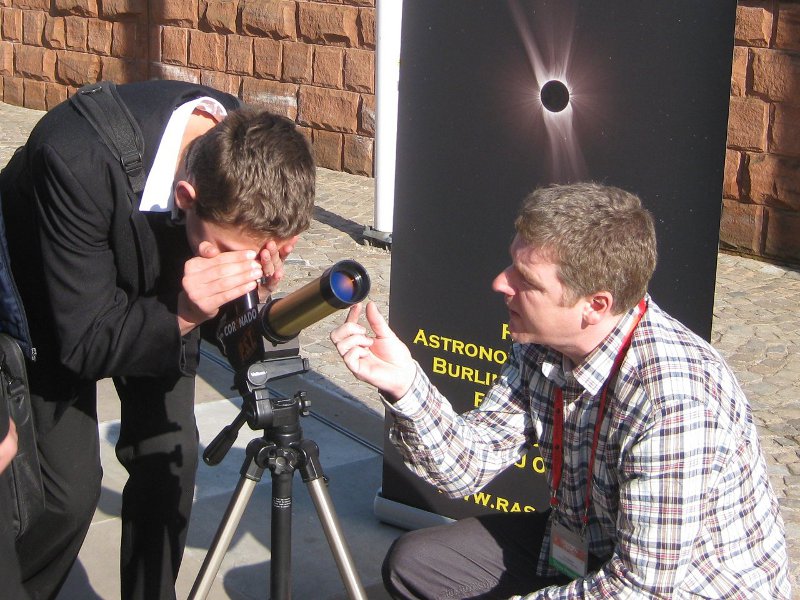 Wonders of space brought down to Earth
22 June 2010
An international research conference discussing the fate of the Sun and other stars is being held by The University of Manchester's Jodrell Bank Centre for Astrophysics.
The conference, with 130 delegates attending from all over the world, is taking place this week in Bowness-on-Windermere in Cumbria.
The University astronomers are also delivering a major outreach programme to run alongside the conference for local schoolchildren.
This was organised to give Cumbrian pupils, who would find it difficult to travel to Jodrell Bank, a chance to hear about the University's research work.
Pupils from primary schools across the north of Cumbria will travel to Keswick School where Dr Chris Wareing, Science Exhibitions and Events Manager at the Jodrell Bank Discovery Centre, will be presenting shows in Jodrell's state-of-the-art digital planetarium. Dr Wareing said:
"The planetarium shows are a superb way of bringing the wonders of the universe right into the classroom. We're even able to show the pupils close-up views of some of the astronomical objects we're discussing at the conference this week."
GCSE and A' Level students will also get invaluable help with their studies from Dr Tim O'Brien, Senior Lecturer in Astrophysics in the School of Physics & Astronomy.
Dr O'Brien will deliver several special lecture demonstrations explaining how astronomers use telescopes to study the Universe. He said:
"In my research on exploding stars I use telescopes around the world and in space. I'll be giving students a chance to make their own observations using three different telescopes.
"These include one which allows them to safely view hydrogen gas in the outer layers of the Sun and another specially-constructed radio telescope."
The two-day outreach event starting today, which also includes activities delivered by independent science communicators and colleagues from the University of Central Lancashire, will reach over 1,000 pupils.
"This is just one of many schools and public outreach activities we deliver from Jodrell Bank", Tim added. "These events give people an opportunity to talk directly to us about our latest research in astronomy. They also provide experiences which we hope will inspire the scientists and engineers of the future."
Jodrell Bank, which is part of The University of Manchester, is a major astronomical research centre and a world leader in radio astronomy-related research and technology development.
Notes for editors
For media enquiries please contact:
Dan Cochlin
Media Relations
The University of Manchester
Tel: 0161 275 8387
email: daniel.cochlin@manchester.ac.uk