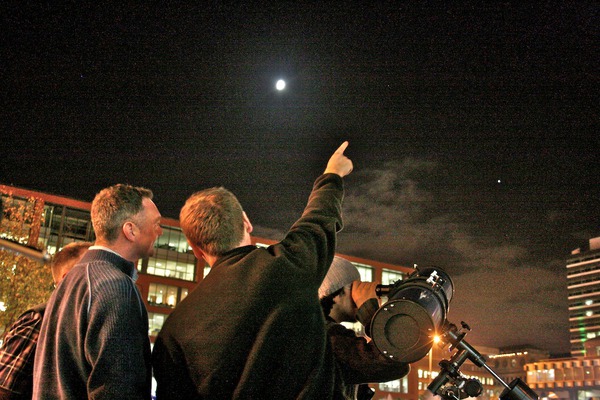 The Moon (left) and Jupiter (right) over Piccadilly Gardens in central Manchester.
Image Credit:
Michael Peel, University of Manchester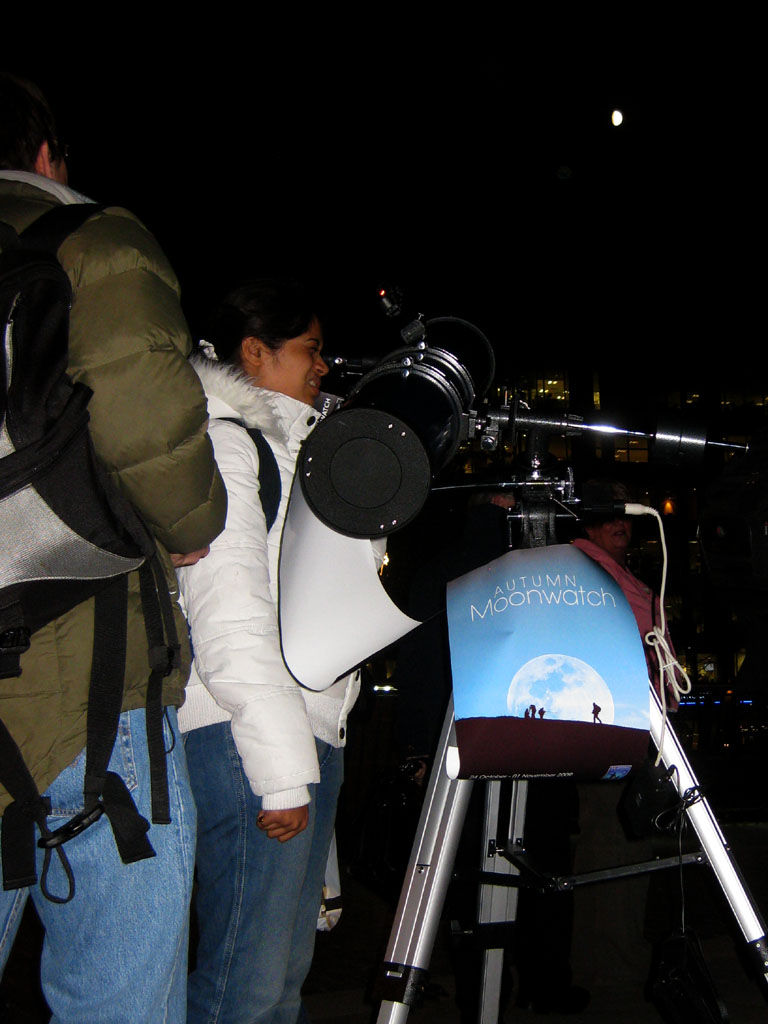 Looking at the Moon through a telescope.
Image Credit:
Tim O'Brien, University of Manchester
Moonwatching in Manchester
29 October 2009
Astronomers from Jodrell Bank headed out onto the streets of Manchester this week to show passers-by close-up views of the Moon and the planet Jupiter.
About 250 people took the opportunity to use one of our telescopes to study craters on the Moon and see the four largest moons of Jupiter. The vast majority had never looked through a telescope before.
The Moon is gradually moving towards a Full Moon phase. Jupiter will be visible for several months - it appears like a bright star in the southern evening sky.
The event was part of the International Year of Astronomy's (IYA) Moonwatch week running from October 24th to November 1st. For more information on these and other events in the UK see the UK IYA website.
During Moonwatch week and the following week, we are also showing 4 astronomy videos on the BBC Big Screen in Manchester's Exchange Square. These include the Jodcast Jodrell Bank video, two specially-produced astronomy slide shows and the IYA trailer.
The International Year of Astronomy marks 400 years since Galileo first used a telescope to look at the Moon and Jupiter. It is also 40 years since the Apollo 11 astronauts landed on the Moon.
Contacts
The Jodrell astronomers who helped with this event were Jen Gupta, Anthony Holloway, Stuart Lowe, Tim O'Brien and Michael Peel.
For more information please contact
Tim O'Brien,
The University of Manchester,
+44 (0)161 275 4165
email: tim.obrien "at" manchester.ac.uk