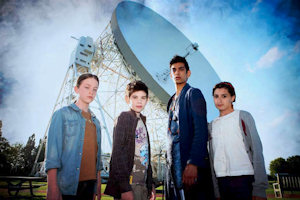 Some of the cast of Ingenious and the Lovell Telescope
Jodrell Bank dragon hunt will be Christmas cracker
22 December 2009
It's proved Einstein's theory of relativity, tracked the launch of Sputnik and probed the origins of the Universe – now the iconic Lovell Telescope at Jodrell Bank is being used to find dragons.
The famous dish – part of the University of Manchester's Jodrell Bank Centre for Astrophysics – takes centre stage in a new hour-long children's drama, Ingenious, which will be shown on Christmas Day on BBC One at 9.15am.
Written by award-winning writer Jeanette Winterson, Ingenious tells the story of a group of friends who find a magical genie and search for the 'Ruby Dragon of Cheshire'.
The famous Lovell Telescope plays an important part in the plot, as it has been picking up strange signals, believed to be coming from the dragon.
The one-hour film stars Una Stubbs (Benidorm, The Catherine Tate Show and Worzel Gummidge) and David Calder (Last Enemy, New Tricks, Tumble Down and Cracker).
Teresa Anderson, Director of the Jodrell Bank Discovery Centre Project, said
"We get a lot of wonderful visitors coming along to see us at the Observatory.
"As far as I know, this is the first time that we've had a genie and a dragon amongst them – but we were very pleased to welcome them along too."
Producer, Rebecca Hodgson said:
"The staff at Jodrell Bank were very helpful and supportive to our production. Jodrell Bank was the perfect location for us - a mixture of science and magic."
This is not the first time the Jodrell Bank Observatory has appeared in a high-profile drama production.
Scientists came face to face with Earth-destroying aliens in The Hitchhiker's Guide to the Galaxy in 2005, as key scenes of the sci-fi cult-classic were filmed at the site.
And in a 1981 episode of Doctor Who, the Doctor's fourth incarnation, played by Tom Baker, fell to his death from a giant alien machine based on the Lovell telescope. He regenerated into Peter Davison.
Ingenious is directed by Brian Kelly, who worked on the Doctor Who spin-off Torchwood and produced by Rebecca Hodgson for Lime Pictures.
Notes for editors
For more information about the Jodrell Bank Centre for Astrophysics please contact Alex Waddington, Media Relations Officer, The University of Manchester, 0161 275 8387 / 07717 881569.
Lime Pictures Press Office (for further details and images):
Gill Bowker - gbowker@limepictures.com / 0151 737 4023
Zhana Leeson - zleeson@limepictures.com / 0151 737 4026