Jodrell Bank to help star gazers travel 'Around the World in 80 Telescopes'
2nd April 2009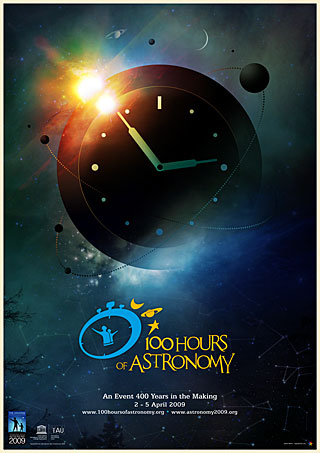 Scientists at Jodrell Bank are to be at the heart of a global astronomy marathon.
'Around the World in 80 Telescopes' is a 24-hour live video web-cast that will enable star-gazers to see what is happening at observatories around the world.
Running from 10am BST on April 3 to 10am BST on April 4, the webcast will include visits to observatories in Hawaii, South Africa, Chile and Australia - as well as Jodrell Bank.
And there will also be the chance to see images captured from space-based telescopes such as the NASA/ESA Hubble Space Telescope and the ESA XMM-Newton and Integral.
The webcast will be part of the global '100 Hours of Astronomy', which has been organised as part of International Year of Astronomy 2009.
And the transmission from Jodrell - which will include images that have never been seen before - will happen at around 6pm BST on Friday.
Dr Tim O'Brien, from Jodrell Bank, which is part of the University of Manchester, hopes it will enthuse a new generation of interest in science and technology.
"This is a unique opportunity to tour the observatories of the world. And it is going to be really exciting for anyone who is interested in astronomy.
"Each of the observatories will present a pre-prepared video that describes their work and they've also been asked to present an exclusive image - so there will be lots to see that has never been seen before.
"The webcast also offers viewers the chance to have their own questions answered.
"At Jodrell Bank we think this is really important. We are hoping that with events like this we can inspire younger people to think about studying science and to take up careers in science and technology."
100 Hours of Astronomy, which includes 'Around the World in 80 Telescopes', is a worldwide celebration that will bring together more than 1500 events in more than 130 countries.
In addition to the webcast, Jodrell Bank will also host part of the Global Star Party, which will begin at sunset on April 4. Demand for tickets has been high and the event has now sold out.
Viewers can log on to 'Around the World in 80 Telescopes'
You can find '100 Hours of Astronomy' events near you.
Contacts at Manchester University's Jodrell Bank
http://www.manchester.ac.uk/jodrellbank
Tim O'Brien, Senior Lecturer and Head of Outreach
Jodrell Bank Centre for Astrophysics
University of Manchester
tim.obrien "at" manchester.ac.uk
Tel: +44 (0)161 275 4165