The Night Sky October 2015
For September Night Sky click on link top left.
Compiled by Ian Morison
This page, updated monthly, will let you know some of the things that you can look out for in the night sky. It lists the phases of the Moon, where you will see the naked-eye planets and describes some of the prominent constellations in the night sky during the month.
An Amateur's Guide to Observing and Imaging the Heavens
written by the author and aimed to bridge the gap between beginner's books on astronomy and the many specialised book on individual topics was published last year by Cambridge University Press. If you look for it on Amazon Books you will find two excellent short reviews, one is by Stephen James O'Meara, one of the world's top visual observers, and one by Damian Peach, arguably the world's top planetary imager.
'A Journey through the Universe'
was also published by CUP last year giving an up to date review of what we know about our Universe. Martin Rees has written a very nice review of it.
Image of the Month
Enhanced Colour Image of Pluto imaged by the New Horizons Spacecraft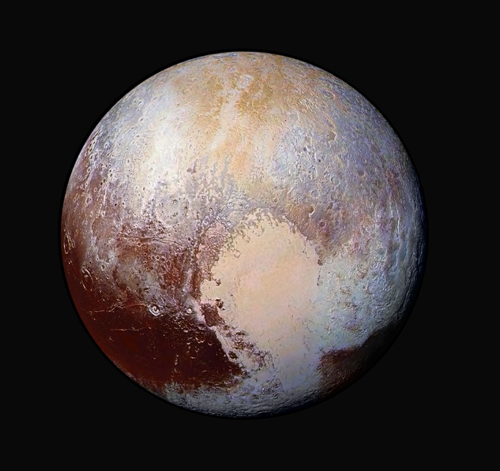 Enhanced colour image of Pluto

Image: NASA, John Hopkins University/APL, Southwest Research Institute.
Colour data and images of Pluto taken by the New Horizons spacecraft during its flyby in July have been combined to give an enhanced view of an ancient world sporting an unexpectedly young surface. The enhanced colurs make surface regions of different chemical composition visually distinct. For example, the light coloured, heart shaped, Tombaugh Regio is clearly seen to be divisible into two regions that are geologically different. New Horizons will soon be directed to change course so that it can fly past asteroid 2014 MU69 in January 2019.