The Night Sky June 2016
Compiled by Ian Morison
This page, updated monthly, will let you know some of the things that you can look out for in the night sky. It lists the phases of the Moon, where you will see the naked-eye planets and describes some of the prominent constellations in the night sky during the month.
Cambridge University Press has recently published two books by the author.
An Amateurs Guide to Observing and Imaging the Heavens
is a handbook aimed to bridge the gap between the beginner's books on amateur astronomy and the books which cover a single topic in great detail. Stephen James O'Meara and Damian Peach have both given it excellent reviews.
'A Journey through the Universe'
covering our current understanding of the Universe (up to June last year) was published on the 25th of September. Martin Rees has written a very nice review of it.
Image of the Month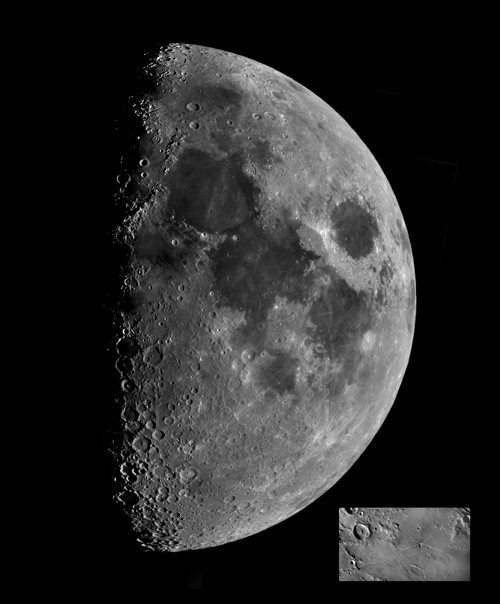 First Quarter Moon imaged in the infrared

Image: Ian Morison

Why image in the infrared? If a sufficiently large aperture telescope (in this case 200mm) is used along with a suitable camera, it will be the atmospheric turbulance - determining what is called the 'seeing' - that will limit the image quality. The seeing is least good in the blue part of the spectrum, far better in the red part of the spectrum and even better in the near infrared. So imaging in the infrared can make a significant improvement in image quality. A further advantage is that imaging can take place in daylight and this image was taken during the evening when the Moon was still high in the sky so helping to minimise the effects of the atmospheric seeing. A Point Grey Chameleon webcam was used to take ~1000 frame video sequence of 42 overlapping areas of the lunar disk and the best ~200 of each stacked to provide what are termed 'panes'. These were then composited into the image shown above. It has achieved a resolution of ~1 arc second. The inset shows the Hygenus Rille imaged at the same time.
To achieve higher resolution requires the use of larger telescopes as were used to make the 'World Record Lunar Image' when 10 imagers took 288 panes based on close to 1.2 million frames of captured video. Please follow the link in the Lunar section below - it is a superb image!