The Night Sky August 2016
Compiled by Ian Morison
This page, updated monthly, will let you know some of the things that you can look out for in the night sky. It lists the phases of the Moon, where you will see the naked-eye planets and describes some of the prominent constellations in the night sky during the month.
Cambridge University Press has recently published two books by the author.
An Amateurs Guide to Observing and Imaging the Heavens
is a handbook aimed to bridge the gap between the beginner's books on amateur astronomy and the books which cover a single topic in great detail. Stephen James O'Meara and Damian Peach have both given it excellent reviews.
'A Journey through the Universe'
covering our current understanding of the Universe has been given a very nice review by Martin Rees.
Image of the Month
Investigating the Moon's geology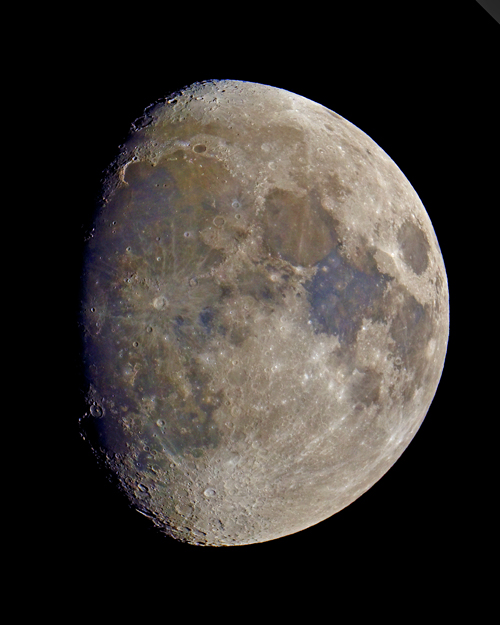 The Moon in enhanced colour

Image: Ian Morison
We tend to think that the Moon is simply seen in shades of grey, but lunar images do show some subtle colour variations. Given a very low noise image as taken with a modern DSLR using a low ISO, it is possible to enhance these colour variations to give the result as seen in the above image. Images such as this tell us about the chemical constitution of the lunar basalts forming the mare basins.
The colours seen are largly controlled by variations in the iron and titanium content within the basalts that make up the mare regions. These are darker than the highland regions because they contain relatively high amounts of iron oxide (FeO). In addition to the iron oxiode, some mare basalts contain unusually high amounts of titanium dioxide (TiO2) making them even darker. TiO2 also shifts the colour of the mare from red to blue and the distinct boundary between Mare Tranquillitatis (darker and bluer) and Mare Serenitatis (lighter brown) which is clearly visible results from a high percentage of TiO2 in the Tranquillitatis basalts.