The Night Sky August 2015
Compiled by Ian Morison
This page, updated monthly, will let you know some of the things that you can look out for in the night sky. It lists the phases of the Moon, where you will see the naked-eye planets and describes some of the prominent constellations in the night sky during the month.
Cambridge University Press has recently published two books by the author.
An Amateurs Guide to Observing and Imaging the Heavens
is a handbook aimed to bridge the gap between the beginner's books on amateur astronomy and the books which cover a single topic in great detail. Stephen James O'Meara and Damian Peach have both given it excellent reviews.
'A Journey through the Universe'
covering our current understanding of the Universe (up to June last year) was published on the 25th of September. Martin Rees has written a very nice review of it.
Image of the Month
Charon imaged by New Horizons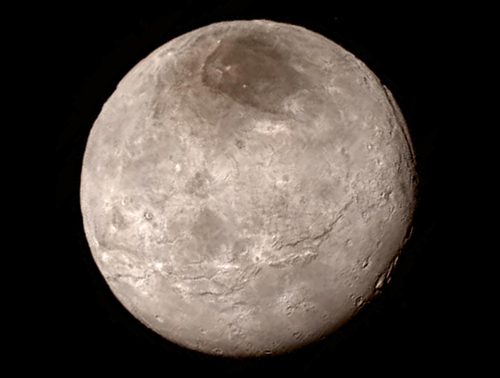 Charon

Image: NASA,John Hopkins Univ./APL,Southwest Research Institute.
Of all the images so far sent back by New Horizons, this is the one I like best. Charon was discovered by Jim Christy in 1978 and this allowed the mass of Pluto to be calculated - it was far smaller and less massive that had been thought when it was discovered and, to be honest, if Pluto were discovered now it would never be classified as a planet. I was a little sad though when it was demoted and would have liked it to have been allowed to stay as an 'honorary planet'. Charon is 1,200 km across - half the diameter of Pluto and about 1/10th the size of Earth. Its terrain is surprisingly youthful and very varied including a 1,000 km swath of cliffs and troughs seen below the centre of the image and, along the upper right edge, a 7 to 9 km deep canyon. The enigmatic dark polar region has been dubbed 'Mordor'!