The Night Sky August 2014
Compiled by Ian Morison
This page, updated monthly, will let you know some of the things that you can look out for in the night sky. It lists the phases of the Moon, where you will see the naked-eye planets and describes some of the prominent constellations in the night sky during the month.
An Amateurs Guide to Observing and Imaging the Heavens
written by the author has recently been published by Cambridge University Press. If you look for it on Amazon Books you will find two short reviews, one is by Stephen James O'Meara, one of the world's top visual observers, and one by Damian Peach, arguably the world's top planetary imager.
Image of the Month
The Crab Nebula seen in visible light and X-rays.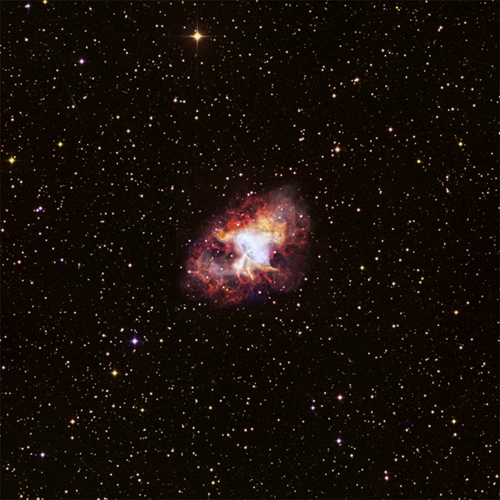 Crab Nebula

Image: NASA,Chandra X-ray Observatory, SAO, DSS
This is a composite image combining optical survey data with that from the Chandra X-ray Observatory. The image shows rings or waves of high energy particles that appear to have been flung outwards over a distance of one light year from the central neutron star and high-energy jets of particles blasting away along its rotation axis. The Crab Pulsar, as the central star is known, is the remnant of a star that exploded in a supernova event that was observed in 1054.