Ursa Major and Canes Venatici
Alcor and Mizar - Multiple star system
M81 and M82 - Galaxies
M51 - Interacting Galaxies
Sadly, these two constellations are only visible to northern latitude observers. The 'Plough' or 'Big Dipper'- shown by the thicker lines in the chart - is one of the best known groups of stars in the sky and almost everyone knows that by following the line of the two stars, Merak and Dhube (known as the pointers), that make up the right hand side of the plough, brings you to the Pole Star, hence showing where true north is. The stars that make up the outline of the bear are not quite so obvious! Ursa Major contains two A-list objects along with some other interesting objects that are also shown on the chart. Canes Venatici is a very small and insignificant constellation that lies below the tail of the bear; but it does contain one of the most beautiful objects in the sky, the Whirlpool Nebula.
Alcor and Mizar Visual and telescopic doubles Open Cluster E B M
Mizar, Zeta Ursa Majoris, is the middle star of the three stars that make up the tail of the bear. With good sight, you should be able to see that it has a close neighbouring star - 12 arc minutes away - which is called Alcor. The pair, easily seen in binoculars, together are called the 'horse and rider'. The two stars orbit each other about once every million years and, in 1650, were the first double star ever to be observed. If however one now observes the pair with a telescope it will be seen that Mizar is itself a double star comprising two white stars 14 arc seconds apart - easily split even when seeing conditions are not good. In fact (though not visible in any telescope) each of the two stars is itself a double star so Alcor and Mizar make up a quintuple star system! In a telescope field using a medium power eyepiece with both Alcor and Mizar in view, a third faint reddish star will be seen to form a flattened triangle with them. Called Sidus Ludovicianum, it was named after Ernst-Ludwig V by a (not very good!) observer who mistook it for a planet!
Position: 13h 23.9m +54deg 55min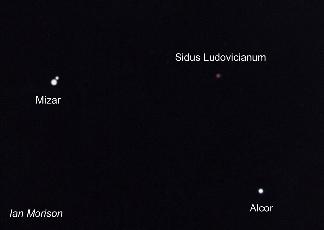 M81 and M82 Galaxies L M
These form a pair of galaxies that are close together both visually and in their actual separation. With no bright stars close by they are not the easiest to find. It is probably best to use the line formed by Gamma and Alpha Ursa Majoris, the bottom left and top right stars of the plough, as a pointer. If one moves binoculars or a finder scope up and to the right along the line of these two stars, the two galaxies will be found 10 degrees - or two field diameters - from Alpha Ursa Majoris. Both galaxies lie at a distance of about 12 million light years and their centres are only some 150,000 light years apart. A telescope with a low power eyepiece will show both galaxies in the same field - they are 37 arc minutes apart - then higher powers can be used to observe each individually.
M81, at magnitude 6.8, is one of the brightest galaxies visible in the sky and thus easy to observe with a small telescope. It is a type Sb spiral galaxy, the same type as the Andromeda Nebula, M31, with a bright nucleus and reasonably open spiral arms. A small telescope will show the bright core of the nucleus and, if the sky is dark and transparent, a hint of the spiral arm structure particularly at the upper right and lower left.
M82 is an elongated irregular galaxy that is less bright overall, at magnitude 8.4. However, as it is smaller in area, it is still easy to make out as a thin cigar-like band of light. It seems that a 'recent' close encounter with M81 has initiated a major burst of star formation and it is thus known as a 'starburst' galaxy. Radio images of its core have shown many very young supernova remnants resulting from the explosive end to the massive stars that have been formed there.
Positions:
M81: 09h 55.6m +69deg 04min
M82: 09h 55.8m +69deg 41min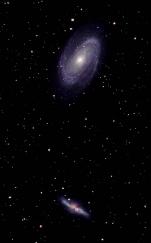 M51 - The Whirlpool galaxy Interacting Galaxies M
This is perhaps the finest example of a face on spiral galaxy that we can observe, certainly with an amateur telescope. It lies 3.5 degrees south-west from the left hand star of the Bear's tail, Eta Ursa Majoris, and forms a right angle triangle with it and Mizar. The distance of M51, a type Sc galaxy, is still in some dispute; some put it as near as 15 million light years, but a recent determination gave 31 million light years. It was originally discovered by Messier himself in 1773. Later Lord Rosse observed it with his giant 72 inch telescope at Birr Castle in Ireland and made a wonderful drawing showing the extended spiral arm structure - the first time spiral structure had ever been observed in a galaxy. In fact, M51 is a pair of interacting galaxies, NGC5194, the large spiral, and NGC5195, its smaller and irregular companion. It is thought that the gravitational interaction of the smaller galaxy may have triggered the formation of the spiral arms in the larger. Under reasonably dark skies, a small telescope will show the nuclei of the two galaxies separated by 4.5 minutes of arc. Under really dark and transparent skies the spiral structure may just be discerned, particularly with telescopes of 8 inch (200 mm) or more in aperture.
Position: 13h 29.9' +47deg 12min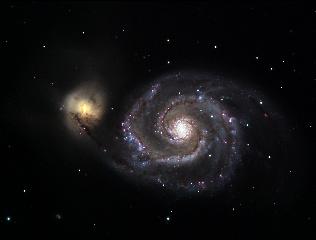 Other Messier Objects
The chart also shows four other Messier objects; three galaxies and one planetary nebula. M108 is a 10th magnitude type Sc galaxy very close to Merak, Beta Ursa Majoris, whilst M109 is a type SBc spiral, magnitude 9.8, close to Gamma Ursa Majoris. It has a prominent central bar of stars from the end of which flow the spiral arms - hence the 'B', for barred, in its Hubble classification SBc. M101makes a nice triangle with Eta and Zeta Ursa Majoris at the end of the tail of the bear. It is a magnitude 7.9, type Sc, galaxy at a distance of 27 million light years. It is called the 'pin-wheel galaxy' due to its open arms, but a small telescope will probably only show the compact nucleus. Finally we have M97, the Owl Nebula. This is a planetary nebula close to M108. At magnitude 9.9 it will require a dark sky to be able to pick it out. The disk of glowing material has two prominent circular 'holes' which appear like the eyes of an owl so giving it its name.