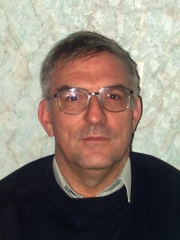 Alan Pedlar
---
I'm a professor in the Dept of Physics & Astronomy at theUniversity of Manchester. I'm based at the Jodrell Bank Observatory .
My research interests are currently Active Galaxies. These include starburst galaxies, Seyferts and nearby radio galaxies.
Other research interests have included Radio Recombination Lines, HII regions & the Galactic Centre.
Radio studies of Starburst Galaxies - PhD project 2002
H1 absorption - PhD project 2002
M82 movies of H1 and OH absorption
M82 Webpage (Under Construction)
---
Outside interests

Member of:-

Peak District Mountain Rescue Organisation
---
Last changed ..but not updated properly : June -2004

Alan Pedlar
NRAL, Jodrell Bank
University of Manchester
Nr Macclesfield
Cheshire
SK11 9DL

Room 43. Tel: 01477 571321 . Fax: 01477 571618

Email me at---- ap@jb.man.ac.uk