Pulsar science with the SKA
The SKA (Square Kilometre Array) is a planned multi purpose radio telescope with a collecting area approaching 1 million square metres. It will consist of individual elements placed in a 5-kilometre core and in smaller `islands' that extend up to several thousands(!) of kilometres from the core. The elements will vary from small dipolar antenna's to 15-metre dishes, thus enabling the SKA to observe radio-waves with frequencies from 100 MHz to 10 GHz. The site for the SKA will be selected in 2011. The shortlist consists of South-Africa and West-Australia, two sites which are amongst the most radio-quiet zones in the world.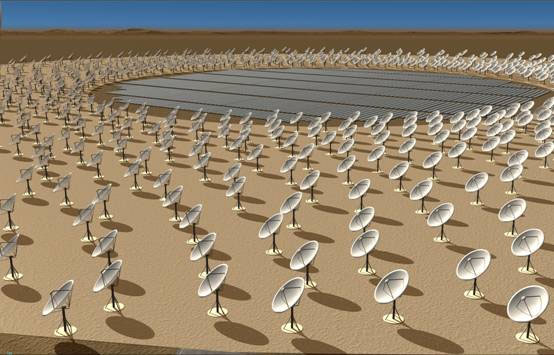 Artists impression of the core of the SKA.
Created by: Xilostudios
To motivate and steer the design of this telescope, Dr. Roy Smits and Prof. Michael Kramer of JBCA are studying the scientific possibilities to find and study radio pulsars with the SKA. A full sky survey for pulsars would yield a enormous data-rate of several tera-bytes every second! To analyse this data real-time requires a computer power close to 100 peta-operations per second, which is equivalent to that of 100 million laptops. Such a survey would increase the known pulsar population by a factor of 10. It will probably also yield several pulsar-black hole binaries of which at least one is likely to allow tests of General Relativity far beyond current efforts. Furthermore, by finding and re-observing a choice of several thousand millisecond pulsars for a period of several years, the SKA will be able to provide direct proof and study the effects of gravitional waves.
By: Roy Smits (JBCA)