Detection of a stochastic gravitational wave background
The detection of a stochastic gravitational wave background (GWB) using pulsar timing measurements is a research field with continuously growing interest the recent years. Already three Pulsar Timing Arrays (PTAs) exist, the North-American (Arecibo), the European and the Parkes PTAs which are working on gathering new pulsar timing data sets with unprecedented accuracy. These data sets will be able to probe such a stochastic GWB created from coalescing super massive black holes or from more exotic sources, such as cosmic strings.
A few words about gravitational waves...
On the mathematical point of view, gravitational waves are the result of the linearization of Einstein's field equation (or weak field approximation). By introducing an appropriate gauge (the Einstein gauge, also known as De Donder, Hilbert, or Fock), the field equations reduce to "simple" wave equations, describing "gravitational waves" propagating through spacetime at the speed of light just like electromagnetic radiation. They are also transverse and have two polarisation states, the "cross" and "x" polarisation states, which form an angle of 45o, in contrast to the 90o angle of the polarisation states of electromagnetic waves.
Polarisation of gravitational waves. Credits: Abramovici et al. 1992
On their physical aspect, gravitational waves can be described as ripples in the spacetime fabric, just like those created in a lake when someone casts a stone. Electromagnetic waves are created when we have accelerating charges. Gravitational waves are in complete analogy created when we have accelerating masses. However, their amplitude is very small, something that can be better understood by the fact that spacetime needs rather immense amounts of energy in order to be disturbed (curved). Therefore, gravitational waves are detectable only from rather extreme dynamical phenomena such as the coalescing of binary black holes or relativistic stars, core collapses during a supernova explosion or the Big Bang itself. Whenever such an event takes place, it transmits information about the whole dynamical process through the emission of gravitational waves.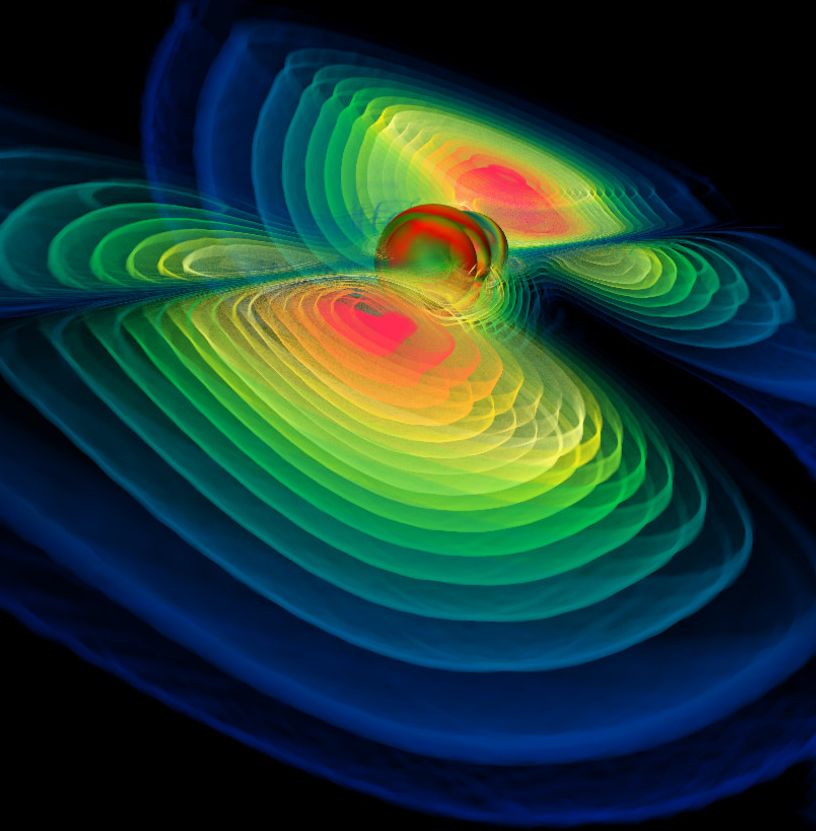 Simulation of 2 coalescing black holes. Credits: Werner Berger
There is an ongoing effort for the first direct detection of gravitational waves, a very difficult task because of their extremely low amplitude (imagine that the amplitude that we expect to measure from two coalescing black holes which weight ten solar masses each, at a distance about 1 billion light years from us, will be approximately 10-21 meters...). However, many ground based gravitational observatories have already been built (LIGO, TAMA300, GEO600) the sensitivity of which is continuously increasing, and LISA, the only proposed space observatory will become reality in the next decade making the detection of gravitational waves a fact. Pulsar timing, a technique that was proposed at the late '70 as capable of detecting a gravitational wave background pervading the whole universe seems a rather good candidate for the first direct detection of gravitational waves. New, extremely precise pulsar timing data sets have already began to be constructed and they will give a definite answer about the existence (or not) of a gravitational wave background.
| | |
| --- | --- |
| LIGO. credits: LIGO Observatory Hanford | LISA |
In the near future, gravitational wave astronomy will give us a completely new insight of the Universe and its processes. Radio astronomy, when it was established, opened a completely new observational window for astronomers with its most intriguing discovery being the discovery of the CMB. However, this was just a new observational window in the already very well understood electromagnetic radiation. Gravitational wave astronomy will give a completely different, dynamic view of the Universe, capable of probing not only new phenomena, but also understanding in its full detail the General Theory of Relativity, even giving us clues about the precise characteristics of a Grand Unification Theory.
A few words about cosmic strings...
Cosmic strings are 1-dimensional topological defects which might have been created in the Early Universe. Theory so far supports that just after the Big Bang, when the Universe began to expand, the continuous reduction of its temperature caused the four basic forces in nature to separate from each other through the mechanism of spontaneous symmetry breaking. Such phase transitions are expected to produce topological defects, regions in which the "old" phase state remains trapped between the regions of the new phase. Cosmic strings can be visualised as very long curved lines, with very small diameters (of the order of Planck's length), but with incredible energy density (1022 gr cm-1). These strange characteristics can create many observational effects, from gravitational lensing to line-like anomalies in the CMB. Cosmic strings are divided in two categories, infinite and closed loops. Such a network of infinite and loop cosmic strings is suspected to be born in the very Early Universe.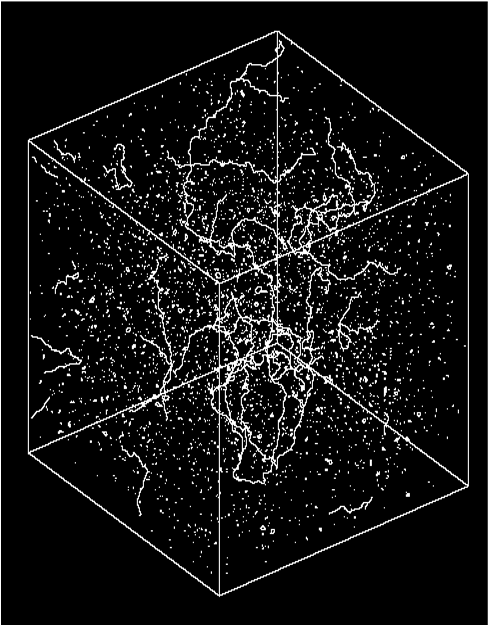 A cosmic string network (Bennett & Bouchet, 1990)
The infinite strings are continuously giving birth to cosmic string loops by chopping off large parts of them. On the other side, cosmic string loops from the time that they are born begin to oscillate relativistically until they emit all of their energy in the form of gravitational waves. The gravitational waves emitted from cosmic string loops, are expected to form a gravitational wave background present in the whole universe. The detection of this background is our main goal.
By: Sotirios A. Sanidas (JBCA)